Anonymat et confidentialité des données : l'expérience de beQuali
This experience, in the context of beQuali, CDSP's surveys bank, proposes to give a feedback of the concrete questions we have faced, for the anonymisation of qualitative data in sociology and political science. We highlight the resulting tensions, between scientific interest (the need to preserve the sociological wealth of data for reuse) and ethical and legal issues (the protection of respondents and researchers). It is a collective reflection based on the cross-examination of several cases of surveys (a dozen) already treated or being processed, and on the study of how other researchers, in the literature in particular, and other equivalent platforms, in France and abroad, have addressed this issue.
Ce texte propose un retour d'expérience sur les problématiques d'anonymisation que nous gérons dans le développement de la banque d'enquêtes qualitatives en sciences sociales "beQuali". Nous y restituons les questions que nous affrontons, ainsi que les solutions mises en œuvre, lorsque nous devons traiter des données qualitatives portant sur des individus "enquêtés" lors de recherches en sociologie et en science politique. Nous y explicitons les difficultés à articuler deux principes d'égale importance : préserver la précision des données et donc leur potentiel de réutilisation – ce qui renvoie à une nécessité d'ordre scientifique – et protéger les enquêtés et les chercheurs premiers – ce qui renvoie à un impératif avant tout d'ordre juridique, mais aussi éthique ou déontologique 1 . L'anonymisation de telles "données", loin de se résumer à une opération technique, conséquence de l'application mécanique du droit, constitue un enjeu complexe, au carrefour de logiques hétérogènes ; à défaut de pouvoir être standardisée, elle implique un traitement au cas par cas, via des réglages ad hoc, à la recherche d'un équilibre à chaque fois sur mesure. Pour ce faire, nous restituons les fruits d'une réflexion collective basée sur l'examen croisé de plusieurs cas de figure illustrés par des enquêtes déjà traitées ou en cours de traitement à beQuali.
Fichier principal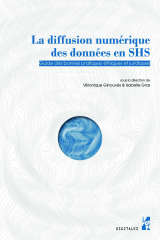 equipe-bequali-diffusionnumdonneesshs.pdf (4.56 Mo)
Télécharger le fichier
Origin : Publisher files allowed on an open archive