Civic engagement for the environment in the Greater Paris: territories, politics and inequalities
Comprometerse con el medio ambiente en el Gran París: territorios, políticas y desigualdades
S'engager pour l'environnement dans le Grand Paris : territoires, politiques et inégalités
Civic environmentalism in the large northern metropolises takes place in constantly changing territories, characterized by diverse landscapes, populations and political tendencies. In this article, we argue that sociospatial differentiation, and more specifically territorial inequalities, across metropolitan territories is a decisive yet often neglected factor by studies on environmental social movements. Based on a survey of environmental community supported organizations (CSO) operating in the Greater Paris Area, articulating a series of quantitative and geospatial data on the profile of 131 municipalities and a series of qualitative data on 52 CSO, we show how the landscape, socio-economic and political profile interacts with civic environmentalism at the municipal level. Our results, discussed here, indicate that the modalities and patterns of action of environmental CSO are partly but meaningfully driven by metropolitan territorial inequalities.
El ambientalismo ciudadano en las grandes metrópolis del norte se desenvuelve en un territorio que experimenta una constante transformación, caracterizado por una diversidad de paisajes, población y tendencias políticas. En este artículo, defendemos que la diferenciación socioespacial, específicamente, las desigualdades territoriales que experimentan los territorios metropolitanos, constituyen un factor decisivo y a menudo olvidado, en los estudios sobre movimientos sociales ambientales. A partir de una encuesta a asociaciones ambientales que operan en el Gran París, articulando una serie de datos cuantitativos y geoespaciales sobre el perfil de 131 municipios y una serie de datos cualitativos de 52 asociaciones y colectivos, mostramos cómo el perfil del paisaje socio-económico y político, interactúa con el ambientalismo ciudadano a nivel municipal. Nuestros resultados, expresan que los modos y planes de acción de las asociaciones ambientales están parcialmente, pero de manera significativa, orientados por las desigualdades territoriales metropolitanas.
L'environnementalisme citoyen dans les grandes métropoles des Nord prend place dans des territoires en constante transformation, caractérisés par des paysages, des populations et des tendances politiques diversifiés. Dans cet article, nous défendons que la différenciation sociospatiale et, plus spécifiquement, les inégalités territoriales qui traversent les territoires métropolitains constituent un facteur décisif et pourtant souvent négligé par les études sur les mouvements sociaux environnementaux. À partir d'une enquête menée sur les associations environnementales agissant dans le Grand Paris, articulant une série de données quantitatives et géospatialisées sur le profil de 131 communes et une série de données qualitatives portant sur 52 associations et collectifs, nous montrons comment le profil paysager, socio-économique et politique interagit avec l'environnementalisme citoyen à l'échelle municipale. Nos résultats, discutés ici, indiquent que les modalités et schèmes d'action des associations environnementales sont partiellement, mais significativement, orientés par les inégalités territoriales métropolitaines.
Fichier principal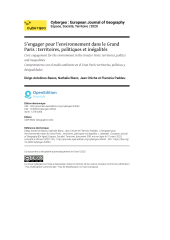 cybergeo-34544.pdf (734 Ko)
Télécharger le fichier
Origin : Publisher files allowed on an open archive