La fin de la tripartition ? : Les recompositions de la droite et la transformation du système partisan
The tripartite competition between the left, the moderate right and the far right was one of the keystones of the electoral order that emerged in France in 1984. Sharply challenged by Nicolas Sarkozy in 2007, the electoral divide between the UMP and the FN was not restored in 2012 despite the recovery of the far right and the high score of Marine Le Pen in the presidential election. While the FN remains isolated in the party system, we argue that the radicalisation of the UMP on immigration, law and order, and national identity has confirmed dramatic changes in the geographical distribution and the logics of moderate right voting. These two dynamics indicate that the UMP electorate and the FN electorate have become closer together.
La tripartition entre la gauche, la droite modérée et l'extrême droite constituait un des fondements de l'ordre électoral en place en France depuis 1984. Brutalement remise en cause par Nicolas Sarkozy en 2007, la fracture électorale entre l'UMP et le FN ne s'est pas rétablie en 2012 en dépit du redressement de l'extrême droite et du score élevé de Marine Le Pen à l'élection présidentielle. Si le FN demeure une force isolée dans le système partisan, la poursuite de la radicalisation de l'UMP sur l'immigration, l'insécurité et l'identité nationale a abouti à la confirmation des évolutions de la géographie électorale de la droite modérée et des logiques de vote en sa faveur, deux dynamiques qui traduisent un rapprochement des électorats de l'UMP et du FN.
Fichier principal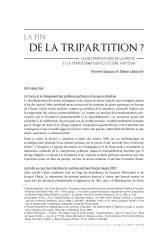 2013-gougou-labouret-la-fin-de-la-tripartition-les-recompositions-de-la-droite.pdf (852.71 Ko)
Télécharger le fichier
Origin : Publisher files allowed on an open archive