Former ensemble les cadres supérieurs de l'Etat et des collectivités territoriales ? : Les enjeux du difficile rapprochement de l'ENA et de l'INET
This article examines the attempt to create a common training programme for senior central and local government offıcials, which was announced by the Minister for the Civil Service in the autumn of 2003. The launch of the "Territoires" module in 2006, for both students of ENA (the French National School of Administration) and INET (the French National Institute for Territorial Studies), has offered an opportunity to develop a legitimate model for the senior civil service. However, it would seem that the two schools'courses have just been juxtaposed rather than merged with one another. The strength of each establishment's traditions has made it impossible to forge a common programme and they still reflect different notions of the civil service, catering to the needs of two different types of labour market.
Cet article analyse le rapprochement des formations initiales des hauts fonctionnaires de l'État et des collectivités territoriales annoncé par le ministre de la fonction publique à l'automne 2003.À travers la création du module « Territoires », suivi conjointement par les élèves de l'ÉNA et del'INET depuis 2006, se joue la définition d'un modèle légitime de haute fonction publique.Toutefois, les formations des deux établissements apparaissent aujourd'hui davantage juxtaposées que fondues. La puissance des mécanismes de reproduction institutionnelle empêche de parler de l'appariement des deux institutions, qui continuent de refléter – et de revendiquer – des modèles hétérogènes de formation des cadres de l'action publique alimentant deux types de marché du travail différents.
Fichier principal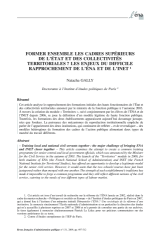 2009-gally-former-ensemble-les-cadres-superieurs-de-l-etat-et-des-collectivites-territoriales.pdf (531.7 Ko)
Télécharger le fichier
Origin : Publisher files allowed on an open archive