At the discretion of the caseworker?
¿A discreción del consejero?
À la discrétion du conseiller ?
As jobseekers receive support from the specific institutions for unemployed, they have to comply with regular interaction with their caseworkers. These interactions articulate three temporalities: a rhythm, an appointment schedule and a duration. The article builds on the observation of interviews between jobseekers and their caseworkers in several employment agencies (two Pôle emploi agencies in France, an Arbeitsagentur and a Jobcenter in Germany) to explore the discretionary power of caseworkers, as well as the rooms for maneuver of the audience targeted. This perspective identifies the relationship between jobseekers and caseworkers with a process of temporal adjustment or conflict. It shows how the administrative temporalities of unemployment are unequally controlled and disputed during the interviews, with different outcomes in each institution. The discretionary power of advisors is particularly high concerning the frequency of interviews. But Arbeitsagentur's jobseekers have resources to discuss schedules, as do Pôle emploi's jobseekers to challenge durations. By contrast, assisted jobseekers in Jobcenters seem significantly deprived in these administrative temporal struggles.
Pris en charge par des organismes spécifiques, les chômeurs sont dans l'obligation de mener des échanges réguliers avec leurs conseillers. Ces interactions articulent trois temporalités distinctes : un rythme des rendez-vous, un horaire de début et une durée. À partir de l'observation d'entretiens entre des chômeurs et leurs conseillers dans plusieurs types d'organismes d'accompagnement (deux agences Pôle emploi en France, ainsi qu'une Arbeitsagentur et un Jobcenter en Allemagne), nous interrogeons le pouvoir discrétionnaire que possèdent les agents administratifs en matière de temporalités, ainsi que les marges de négociation détenues par les publics. Cette perspective présente le rapport des chômeurs et des conseillers comme un processus d'ajustements ou de conflits temporels. Elle montre que les temporalités administratives du chômage sont inégalement contrôlées et disputées au niveau des guichets, avec des résultats différents d'une institution à l'autre. Le pouvoir discrétionnaire des conseillers est particulièrement élevé en matière de rythmes de convocation. En revanche, les chômeurs disposent de ressources singulières pour discuter les horaires en Arbeitsagentur ou pour contester les durées à Pôle emploi. Les chômeurs en régime d'assistance, au sein des Jobcenter, apparaissent singulièrement démunis dans ces luttes temporelles.
Fichier principal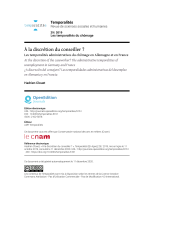 temporalites-6161.pdf (308.41 Ko)
Télécharger le fichier
Origin : Publisher files allowed on an open archive