L'Europe et les Etats-providence
This analysis of the EU's influence on the future of national welfare states points out three distinct phases in the interactions between the building of Europe and of welfare states. During a phase of expansion (1950s–1970s), European authorities were building a common market while allowing member states that were lagging behind in welfare to catch up. During a second phase of conflict (1980s–1990s), advances in the economic construction of Europe caused tensions to flare up with social policies inherited from the past. During a third phase (starting in the late 1990s), EU authorities have been trying to reconcile economic policies with new social policies. To analyze each phase, we must take into account both the EU initiatives capable of having a direct or indirect impact on national welfare systems and the national welfare institutions and strategies that were adopted.
Cet article analyse l'influence de l'Europe sur le devenir des systèmes nationaux de protection sociale. Il est possible de distinguer trois phases distinctes qui ont marqué les interactions entre construction européenne et États-providence : une première phase d'expansion (années 1950 à 1970) au cours de laquelle le niveau européen cherche à construire un marché commun tout en permettant un rattrapage vers le haut en matière de protection sociale ; une deuxième phase conflictuelle (années 1980 et 1990) pendant laquelle l'approfondissement de la construction économique européenne crée de nouvelles tensions avec les politiques sociales héritées du passé ; une troisième phase (fin des années 1990 et 2000) durant laquelle des politiques européennes tentent de réconcilier politiques économiques et nouvelles politiques sociales. L'analyse de chacune de ces phases nécessite de tenir compte des initiatives européennes susceptibles d'avoir un impact (direct ou indirect) sur les systèmes nationaux de protection sociale et nécessite aussi de tenir compte des institutions nationales de protection sociale et des stratégies adoptées.
Fichier principal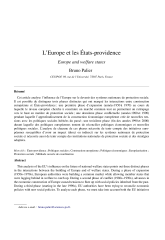 2009-palier-l-europe-et-les-etats-providence-vauteur.pdf (131.12 Ko)
Télécharger le fichier
Origin : Files produced by the author(s)