L'action publique au prisme de ses instruments - Introduction
In recent years, the concepts of "policy tools" and I"government technologies" have undergone a marked revival in French-language research. That research is based on an Anglo-American tradition that goes back over 40 years and is now highly diversified, but it has enriched that tradition with various contributions ranging from theories of power to the sociology of science. This paper presents a panorama of the literature in the field, bringing out the diversity of coexisting viewpoints and their development. An instruments-based approach is a good way to track changes in public action, as well as in regimes and political styles. It also conduces to grasping the tangible nature of public action. Understanding instrumentation is a way of comprehending changes in the state by focusing on its practices and reconfigurations, particularly in the ongoing tension between incentives and constraints.
Les travaux à partir des notions « d'instrument d'action publique » ou de « technologies de gouvernement » ont connu ces dernières années une forte recrudescence dans l'espace francophone. Ils s'appuient sur une tradition anglo-saxonne de plus de quarante années et aujourd'hui très diversifiée, mais ils l'ont enrichi de différents apports allant des théories du pouvoir à la sociologie des sciences. L'article présente ainsi un panorama de la littérature en mettent en valeur la diversité des perspectives qui coexistent et leur évolutions. L'approche par les instruments est un bon traceur de changement de l'action publique, mais aussi des régimes et des styles politiques. Elle incite aussi à saisir l'action publique dans sa matérialité. Comprendre l'instrumentation est une façon de saisir les transformations de l'État en envisageant ses pratiques, et les recompositions qu'elles connaissent, en particulier dans la tension permanente entre contrainte et incitation.
Fichier principal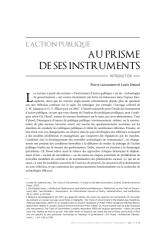 2011-l-action-publique-au-prisme-de-ses-instruments.pdf (215.73 Ko)
Télécharger le fichier
Origin : Publisher files allowed on an open archive