La compétition partisane française au prisme des priorités électorales. Compétition sur enjeux et appropriations thématiques
Based on new data from French electoral party platforms between 1981 and 2007, this paper develops an original interpretation of the French electoral competition. Rather than focusing on the study of cleavages and alignments, we understand the political game in terms of attention to various election issues, starting with the conventional assumption of issue ownership. We confront the latter with the assumption of issue uptake. This better reflects, we contend, the dynamics of issue competition, particularly in the French case. Our results illustrate the importance of analyzing the French electoral competition through the lens of issue competition and provide a new perspective on the dynamics of issue competition issues between French parties.
Sur la base de nouvelles données tirées du codage des programmes électoraux français sur la période 1981-2007, cet article propose une lecture alternative de la compétition électorale française. Tandis que le champ sociologique est largement dominé par l'étude des clivages et des alignements, nous appréhendons le jeu partisan en termes d'attention aux différents enjeux électoraux, en partant de l'hypothèse classique de la propriété d'enjeux (issue ownership). Nos données ne permettent pas d'étayer cette hypothèse : elles font apparaître une forte similarité thématique des partis, combinée à des variations d'attention importantes entre les sujets. Nous introduisons donc le concept d'appropriation des enjeux des adversaires qui, nous en sommes convaincus, rend mieux compte des dynamiques de la compétition sur enjeux, notamment dans le cas français : les fluctuations observées dans les priorités des partis sont en grande partie liées à leur tendance à reprendre à leur compte les thématiques de leurs concurrents. Cette perspective permet de mieux cerner l'influence sur l'agenda électoral des transformations du système partisan en général, et l'impact des partis de niche en particulier. Nos résultats illustrent l'intérêt d'analyser la compétition électorale française au prisme des enjeux politisés, esquissent les grandes lignes des dynamiques de compétition sur enjeux entre les partis français et ouvrent de nouvelles pistes de recherche.
Fichier principal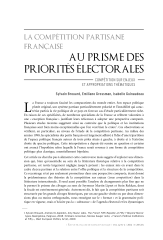 2012-brouard-grossman-guinaudeau-la-competition-partisane-francaise-au-prisme-des-priorites-electorales.pdf (524.83 Ko)
Télécharger le fichier
Origin : Publisher files allowed on an open archive