Introduire la proportionnelle pour restaurer la confiance en la démocratie ?
The choice of a majoritarian or a proportional voting system is not only a choice between justice and efficiency: it also hinges on the level of trust characterising the relationships between citizens and democratic institutions. The results presented in this Policy Brief show that, in majoritarian voting systems, winners of elections are largely more satisfied than losers. This differential in satisfaction is reduced in proportional voting systems. In a context of polarized public debate, this differential can lead to an accrued fluctutation of citizens' opinions on the value of democracy. Implementing a proportional voting system would allow mitigating conflict between citizens and including a higher amount of voters in the winners' camp. This can be easily done in France, for instance through organizing the election of deputies with a list voting system in the new administrative regions.
Le choix entre les modes de scrutin majoritaires et proportionnels ne se résume pas à un choix entre justice et efficacité : il détermine également en partie le rapport de confiance que tissent les citoyens avec les institutions démocratiques. Les résultats présentés dans ce Policy Brief montrent que, dans les systèmes majoritaires, les gagnants des élections sont beaucoup plus satisfaits de la démocratie que les perdants. Ce différentiel de satisfaction est plus faible dans les systèmes plus proportionnels. Dans un contexte de polarisation accrue du débat public, ce différentiel peut entraîner une fluctuation forte des opinions des citoyens à l'égard du régime démocratique. La mise en place d'un mode de scrutin proportionnel permettrait de modérer le conflit entre les citoyens et d'inclure un nombre plus élevé d'électeurs dans le camp des gagnants. En France, un tel système peut facilement être mise en œuvre, par exemple en organisant l'élection des députés par scrutin de listes au niveau des nouvelles régions administratives.
Fichier principal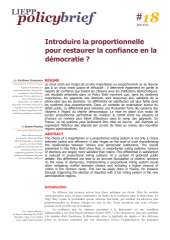 liepp-pb18-scrutin-proportionnel.pdf (1.24 Mo)
Télécharger le fichier
Origin : Publisher files allowed on an open archive