L'hybridation du modèle territorial français : RGPP et réorganisations de l'Etat territorial
This article analyses the reform of the State at territorial level (known as RÉATE – réforme de l'administration territoriale de l'État) undertaken in the framework of France's RGPP Programme Review (RGPP : Revision générale des politiques publiques – General Review of Public Policies). It is the most far-reaching reorganisation since 1964, affecting both the distribution of work between different parts of decentralised government and the hierarchical relationships between central, regional and department administrations. However, the article asks whether it constitutes a genuinely unprecedented reform or, on the contrary, whether it follows on from previous initiatives. This article seeks to distinguish between processes of institutional replication and processes of change. It develops two arguments. Firstly, it shows that the RGPP has provided an appropriate framework to revive and broaden the territorial administration reform already underway since 2002. Secondly, the conflictual process through which the reform has been introduced has entailed a compromise which "cross-fertilises" the traditional organisation of State administration at territorial level in an original way.
Cet article analyse la réforme de l'administration territoriale de l'État (dite RÉATE), menée dans le cadre de la révision générale des politiques publiques (RGPP). D'une ampleur sans précédent depuis la réforme de 1964, la réorganisation affecte aussi bien la division du travail entre les différentes composantes des services déconcentrés que les relations hiérarchiques entre les administrations centrales, régionales et départementales. Marque-t-elle pour autant un véritable tournant réformateur que rien ne laissait présager ou s'inscrit-elle, au contraire, dans la continuité de réformes antérieures ? Cet article propose de faire le départ entre des dynamiques de reproduction institutionnelle et des dynamiques de changement. La thèse défendue est double. L'article montre, d'une part, que la RGPP a constitué un cadre opportun pour relancer et amplifier une réforme de l'administration territoriale déjà engagée depuis 2002. Le processus conflictuel d'élaboration de la nouvelle forme débouche, d'autre part, sur un compromis qui hybride de manière originale l'organisation historique de l'administration territoriale de l'État.
Fichier principal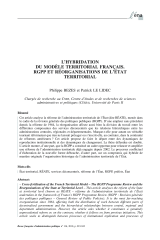 2010-bezes-le-lidec-l-hybridation-du-modele-territorial-francais.pdf (559.98 Ko)
Télécharger le fichier
Origin : Publisher files allowed on an open archive