Classer et juger les transgressions politiques
Ranking and judging political misbehaviours: the benefits of focus group approach and of quantitative method for analysing qualitative data Qualitative researches based on focus group offer valuable insights in analyzing moral conflicts. This article suggests they also prove very useful to explore citizens' perceptions of political misbehaviours. Moral expectations regarding politicians' behaviours are ambiguous judgements because of the various criteria that underpin their perceptions of politics. This article is based on the analysis of eight different, socio-culturally homogeneous focus groups. Collected arguments are analysed through a quantitative method examining discursive contents. The existence of a common grid for ranking political misbehaviours is emphasized. The moderating effects of collective discussion on judgements are also outlined. The article emphasizes variations in judgments, differentiating groups according to their social and occupational experiences. At last, different "repertoires of arguments" are identified relying on different principles.
Les enjeux de probité publique se prêtent bien aux recherches qualitatives menées par focus group, habituellement utilisées dans l'exploration des conflits moraux et normatifs. La démarche est ici mobilisée pour explorer l'ambiguïté des jugements portés par les citoyens sur les pratiques et transgressions des élus. Elle repose sur huit groupes socio-culturellement différenciés et sur une exploitation originale à partir d'une méthode de quantification du contenu des discours recueillis. L'article montre l'existence d'une échelle homogène de qualification et de classification des pratiques politiques qui graduent les jugements de réprobation. La discussion collective favorise l'expression de formes de modération dans les jugements. L'exploitation pointe des différences liées aux caractéristiques sociales des groupes. Elle identifie des « répertoires argumentatifs », mobilisant des principes de jugement divergents.
Fichier principal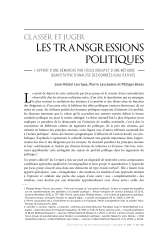 2011-classer-et-juger.pdf (1.24 Mo)
Télécharger le fichier
Origin : Publisher files allowed on an open archive