Destabilizing Orders – Understanding the Consequences of Neoliberalism
Throughout the long postwar period, crisis was a conjectural phenomenon and the exception in a normalcy of growth and social progress. Many key concepts of the social sciences – indeed, our understanding of democracy, embedded markets, enlightened electorates, benevolent political elites, and problem-solving progressive alliances – seem inapt for understanding today's societal upheaval. In the wake of the financial crisis of 2008, we have witnessed the breakdown of majority alliances, the return of populism on a grand scale both in the Western world and globally, and the eruption into chaotic and sometimes violent social protests. The forces that underpinned the framework of welfare capitalism seem obsolete in the face of financial and political elites who are paradoxically both disconnected from national territory and sometimes in direct alliance with nationalist and populist movements. Politics of resentment, politics of place, and new politics of class interact in ways that we do not yet understand. Perhaps the greatest paradox of all is that neoliberalism has spawned authoritarianism. At the same time, these processes are not at all new, but must be put in the context of the socioeconomic and cultural cleavages produced by the shift to neoliberalism since the 1970s. The paper presents arguments by leading scholars in economic history, economic sociology, and political economy in brief thinknotes that were prepared for the MaxPo Fifth-Anniversary Conference on January 12 and 13, 2018, in Paris.
Pendant le long après-guerre, les crises n'étaient qu'un phénomène conjoncturel et une exception par rapport au régime normal de croissance et de progrès social. De nombreux concepts fondamentaux des sciences sociales – la démocratie telle que nous la comprenons habituellement, avec ses marchés encastrés, ses électorats éclairés, ses élites politiques bienveillantes et ses alliances progressistes qui permettent de résoudre des problèmes – semblent inadaptés pour comprendre les bouleversements sociaux actuels. Dans le sillage de la crise financière de 2008, l'on constate l'effondrement des alliances majoritaires, le retour du populisme à grande échelle, tant dans le monde occidental qu'au niveau mondial, et l'irruption de protestations sociales chaotiques et parfois violentes. Les forces qui constituaient l'ossature d'un capitalisme articulé à l'État providence semblent obsolètes face aux élites financières et politiques qui, paradoxalement, sont à la fois déconnectées du cadre national mais aussi parfois directement liées aux mouvements nationalistes et populistes. Des politiques exploitant le ressentiment, d'autres fondées sur les identités locales, et de nouvelles politiques de classe interagissent sous des formes que nous ne comprenons pas encore. Ainsi, que le néolibéralisme engendre aujourd'hui l'autoritarisme n'est pas le moindre des paradoxes. En même temps, ces processus ne sont pas tous nouveaux et doivent être replacés dans le contexte des clivages socio-économiques et culturels produits par l'avènement du néolibéralisme dans les années 1970. Ce volume réunit des positions défendues par des universitaires spécialisés en histoire économique, en sociologie économique et en économie politique, sous la forme de brèves notes de réflexion préparées pour la Conférence du cinquième anniversaire du MaxPo, les 12 et 13 janvier 2018, à Paris.
Fichier principal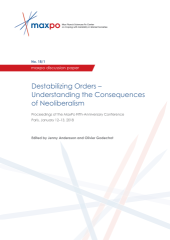 maxpodp18-1.pdf (1.13 Mo)
Télécharger le fichier
Origin : Publisher files allowed on an open archive