Action publique et partis politiques : L'analyse de l'agenda législatif français entre 1981 et 2009
Competition among partisan projects is often cited as a constitutive element of all representative democracies. While the Francophone and English-medium research literature have viewed the link between partisan competition and public policy differently, in both cases parties tend to be the "poor cousins" of theories of public action. Drawing from theories of agenda-setting and issue competition, this article argues for taking the partisan variable more seriously, by adopting an approach which is both global and differentiated and which aims to establish in what conditions governing parties influence public policies. Data from the Comparative Agendas Project provide a challenging basis for investigating this issue. Testing several hypotheses concerning French legislative activities between 1981 and 2009 highlights its potentialities.
La compétition entre projets partisans est souvent citée comme un élément constitutif de toute démocratie représentative. Si les littératures francophone et anglo-saxonne ont appréhendé différemment le lien entre compétition partisane et politiques publiques, les partis sont partout le parent pauvre des théories de l'action publique. S'inspirant des théories de la mise sur agenda et de la compétition sur enjeux, cet article plaide pour une reconsidération du poids de la variable partisane, en adoptant une approche à la fois globale et différenciée visant à établir dans quelles conditions les partis aux affaires influencent les politiques publiques. Pour cela, les données du Comparative Agendas Project offrent un instrument privilégié, dont nous illustrons les potentialités en testant plusieurs hypothèses sur le cas des activités législatives françaises entre 1981 et 2009.
Fichier principal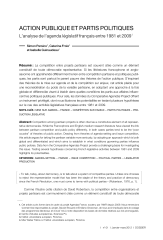 2012-%E2%88%BCon-persico-action-publique-et-partis-politiques.pdf (484.22 Ko)
Télécharger le fichier
Origin : Publisher files allowed on an open archive