Gouverner les illégalismes : Les politiques urbaines face aux squats à Paris
Informal and illegal housing as squats persist in cities despite the fact that the rights of private property are fundamental in France. For a long time legal sociologists have been very interested in the management and the regulation of such "illegalisms" by agents of the state. They show that public laws are differently applied and implemented, depending on the population they target. Nevertheless, in this paper, we address the Paris municipality's ability to govern "illegalisms" actively – and not merely to come to terms with it –, to implement public policies and develop a strategy of action and planning. Elected representatives can act as mediators between squatters, the state, and owners in order to manage conflicts. Above all, governing the city means orienting behaviors, imposing choices, distributing resources and controlling occupations by building policy instruments and urban planning strategies. Finally, local representatives select and categorize the targets – recipients and victims.
Des formes d'habitat illégal comme les squats persistent alors que le droit de propriété privée est fondamental en France. La sociologie du droit s'est beaucoup intéressée à la gestion et à la régulation des illégalismes par les agents de l'État en montrant que la règle de droit subissait des traitements différentiels selon les cibles. Mais nous interrogeons ici la capacité d'une municipalité, celle de Paris, non pas seulement à s'arranger avec les illégalismes, mais à les gouverner, c'est-à-dire à élaborer des politiques publiques suivant une stratégie d'action et de planification. Les élus doivent se positionner en médiateurs entre squatteurs, État et propriétaires afin de gérer les conflits. Mais gouverner les squats à l'échelle d'une ville c'est avant tout orienter des conduites, imposer des choix, distribuer des ressources et encadrer des occupations par des dispositifs de contrôle et de planification urbaine. Enfin, c'est sélectionner des cibles et les catégoriser : des bénéficiaires et des victimes.
Fichier principal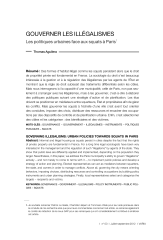 2012-thomas-aguillera-gouverner-les-illegalismes.pdf (877 Ko)
Télécharger le fichier
Origin : Publisher files allowed on an open archive