Le chômage a-t-il encore un sens ? Enseignements d'une comparaison dans trois métropoles
Unemployment (in the sense of the ILO) has been subjected to many international comparisons that usually apply codified indicators to measure it, according to given standards. Our approach is entirely different. The comparison is not pre-established by simply adjusting the instrument of measure, it becomes itself the object under examination: is unemployment a meaningful and stalwart category that allows jobless persons in very different societies to possess an identity? In order to solve this enigma, the article outlines the different phases of a comparative approach based on biographical interviews with unemployed persons in three conurbations (Paris, São Paulo, Tokyo). A comprehensive comparison reveals both the strength and the fragility of the jobless category, thus becoming a useful adjunct to standardized comparisons. ln line with Figurational Sociology, we see unemployment as a crossroads, where normativities, variables of time and space, and subjectivities that differ according to social status and personal itineraries, intersect.
Le chômage fait l'objet de comparaisons internationales nombreuses, qui s'appuient généralement sur des indicateurs codifiés permettant une mesure standardisée du phénomène (chômage au sens du BIT). Ce texte propose une tout autre approche, dans laquelle la comparabilité n'est pas posée en amont, par l'harmonisation de l'instrument de mesure, mais constitue l'objet de la recherche : le chômage est-il une catégorie d'identification pertinente et solide pour des individus privés de travail et vivant dans des sociétés contrastées ? L'article explicite les étapes d'une démarche comparative fondée sur des entretiens biographiques avec des chômeurs dans trois métropoles (Paris, São Paulo, Tokyo) et destinée à résoudre cette énigme. Cette comparaison compréhensive montre à la fois la robustesse et la fragilité de la catégorie du chômage, et constitue ainsi un complément aux comparaisons standardisées. Dans la lignée de la sociologie configurationnelle, elle conduit à considérer le chômage comme une trame croisant des normativités, variables selon les lieux et les époques, et des subjectivités, variables selon les positions sociales et les parcours biographiques.
Fichier principal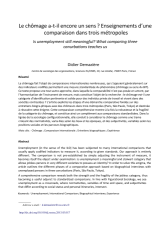 2013-demaziere-le-chomage-a-t-il-encore-un-sens-vauteur.pdf (1.7 Mo)
Télécharger le fichier
Origin : Files produced by the author(s)