Transformation des politiques de recrutement des forces armées au Royaume-Uni et aux États-Unis
Transformation of recruitment policies among American and British armed forcesIn this paper, we propose a state of the art of military recruitment policies in the United Kingdom and the United States to illustrate their transformation regarding the economic liberalization process and the will of these two countries to act as military powers. We address the issue of policy instruments to recruit American and British armed forces through a public policy approach but also in terms of security studies to better understand the logic of change at work for a decade. Based on an extensive documentary work, we illustrate the points of convergence and divergence of both Ministries of Defence in the management of military human resource entangled between economic logic of efficiency and transformation of the role of State. If the use of incentive instruments (subsidized salaries, retraining bonuses, education) and the use of private military companies best characterize the recruitment policy of the U.S. and British armies, the latter display different outcomes in terms of quality and quantity of recruits.
Dans cet article, nous proposons un état de l'art des politiques de recrutement militaire au Royaume-Uni et aux États-Unis pour illustrer leur transformation au prisme du processus de libéralisation économique et de leur affirmation comme puissance militaire. Nous abordons la question des instruments de la politique de recrutement des forces armées américaines et britanniques sous l'angle des politiques publiques mais aussi des études de sécurité afin de mieux comprendre la logique de changement à l'œuvre depuis une dizaine d'années. En s'appuyant sur un travail documentaire exhaustif, nous illustrons les points de convergence et divergence d'action des ministères de la Défense dans la gestion d'une ressource humaine militaire enchevêtrée entre logique économique d'efficacité et logique de transformation du rôle de l'État. Si l'emploi d'instruments de nature incitative (salaires bonifiés, primes de reconversion, d'éducation) et le recours aux sociétés militaires privés caractérisent le mieux la politique de recrutement des armées américaines et britanniques, ces dernières se démarquent par une appréciation différente d'une approche en termes de qualité et de quantité des recrues.
Fichier principal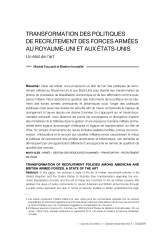 2013-foucault-transformation-des-politiques-de-recrutement-des-forces-armees-au-royaume-uni-et-aux-etats-unis.pdf (176.97 Ko)
Télécharger le fichier
Origin : Publisher files allowed on an open archive