Deux définitions de la collégialité et leur articulation: le cas d'un diocèse catholique
Against the background of the conflict observed between managers and professionals, two definitions of collegiality are identified: on the one hand, as a specific organizational form (bottom up) and, on the other, as a procedure of bureaucratic management (top down). A study of networks of priests in a catholic diocese in France is used to explore how these two definitions are related. Questions are raised about the effects of a too narrow organizational rationalization that uses collegiality only as a top down, bureaucratic managerial procedure. This always entails the risk of making the work done by experts sterile because it overlooks the first type of collegiality, which is based on the nature of the nonroutine tasks that members perform jointly thanks to an endogenous organizational structure of a bottom up type.
Cet article identifie, en arrière-plan des conflits observés entre managers et professionals, deux définitions de la collégialité, l'une comme forme organisationnelle propre (bottom up), l'autre comme procédé de gestion bureaucratique (top down). Il propose un examen exploratoire des modalités d'articulation des deux définitions en s'appuyant sur une étude de réseaux de prêtres dans un diocèse catholique français. Il interroge enfin les effets d'une rationalisation organisationnelle trop étroite dans laquelle la collégialité n'est utilisée que comme procédé de gestion bureaucratique top down. Cette dernière prend toujours le risque de stériliser le travail des experts en ignorant le premier type de collégialité, celle qui est fondée sur la nature des tâches non routinières conjointement accomplies par les membres grâce à une structuration organisationnelle endogène de type bottom up.
Fichier principal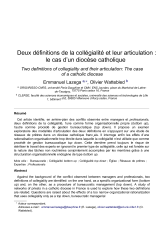 2010-lazega-watterbled-deux-definitions-de-la-collegialite-et-leur-articulation-vauteur.pdf (390.15 Ko)
Télécharger le fichier
Origin : Files produced by the author(s)