Les Relations transatlantiques après le Brexit
Brexit represents a potentially significant change to the way transatlantic relations have been organized since WWII. The "special relationship" between the United Kingdom and the United States, born out of historic and cultural affinities, has come under strain, since America traditionally relied on Britain as its political and economic entry point into Europe. This paper will explore the new, post-Brexit system of multiple partnerships and alliances that is likely to emerge. While the US will be keen to maintain strong bonds with the UK, it will have no other choice but to reinforce ties with other European Union countries. Over time, a second "special relationship" may develop, as the US pivots towards the Franco-German axis as a key interlocutor for transatlantic relations. Germany has already begun to assume leadership for transatlantic economic and trade issues, having re-emerged as the dominant economic power and key decision-maker in the EU under Chancellor Merkel. Likewise, a noticeable Franco-American rapprochement has occurred since France re-joined NATO in 2009; more recently, France has become the US ally of choice for military cooperation, which will be key for the future evolution of transatlantic security relations. After Brexit, France will be the only major military force in the EU, a nuclear power possessing a permanent seat on the UN Security Council, with an experienced army that has intervened in crisis points around the world. The UK has emphasized that Brexit will not change its strong commitment to European security as a key NATO ally. Nevertheless, after it leaves the EU, Britain will no longer have a seat in the European Council or the Council of Ministers where member states coordinate their national foreign and defense policies. This paper will examine the opportunity that this presents for continental European countries to enhance defense cooperation with the US within the NATO framework, especially following Russian interventionism in Eastern Europe. Because of Brexit, the UK is likely to lose previous influence over institutions relating to the EU's independent external relations (CFSP and CSDP), which means that the US will have to work more closely with the EU on strategic cooperation. The Lisbon Treaty defined foreign affairs and defense as intergovernmental policy areas, thus EU external relations have been limited to a 'soft security' role. The current context of international instability indicates that this may no longer be sufficient, encouraging several EU officials to argue for greater permanent structured cooperation. Brexit has made this possible, since the UK had previously vetoed any such attempts. However, in order to maintain the cohesion of the Western alliance, it is essential that the US, Britain and other non-EU countries be closely associated with the CFSP and CSDP in the future. Even though extensive negotiations will be necessary concerning the implications for NATO, where the US enjoys a dominant position, greater EU defense cooperation represents an opportunity to strengthen NATO and the Western alliance as a whole.
Le Brexit implique des changements potentiellement importants dans les relations transatlantiques telles qu'elles ont été organisées depuis la Seconde Guerre mondiale. La « relation spéciale » entre le Royaume-Uni et les États-Unis, fruit d'affinités culturelles et historiques, sera sans doute mise à l'épreuve car, traditionnellement, l'Amérique s'est appuyée sur le Royaume-Uni pour accéder à l'Europe, politiquement et économiquement. Le présent article s'efforcera de décrire le nouveau système, post-Brexit, fait de partenariats et d'alliances multiples qui émergera vraisemblablement. Certes, les États-Unis auront à cœur de garder des liens solides avec le Royaume-Uni, mais ils devront obligatoirement renforcer leurs relations avec d'autres pays membres de l'Union européenne. Avec le temps, une deuxième « relation spéciale » peut se développer si les États-Unis se tournent vers l'axe franco-allemand et le considèrent comme un interlocuteur-clé dans le cadre de leurs relations transatlantiques. L'Allemagne a déjà commencé à assumer son rôle de leader dans les relations transatlantiques économiques et commerciales, après avoir retrouvé sous la chancelière Merkel sa position de puissance économique dominante et de décideur dans l'UE. De même, un rapprochement franco-américain a eu lieu depuis que la France a réintégré l'OTAN en 2009 ; plus récemment, la France est devenue un allié privilégié des États-Unis dans le domaine de la coopération militaire, ce qui sera crucial pour l'avenir des relations transatlantiques en matière de sécurité et de défense. Après le Brexit, la France deviendra la seule puissance militaire majeure de l'UE, disposant d'un arsenal nucléaire, d'un siège permanent au sein du Conseil de sécurité de l'ONU et d'une armée expérimentée qui est intervenue sur des points de crise un peu partout dans le monde. Le Royaume-Uni a souligné que le Brexit n'affaiblirait pas son ferme engagement à l'égard de la sécurité européenne en tant que membre-clé de l'OTAN. Toutefois, après avoir quitté l'UE, le Royaume-Uni ne siégera plus au Conseil européen ni au Conseil des ministres, institutions où les États membres coordonnent leurs politiques nationales dans les domaines des affaires étrangères et de la sécurité. Le présent article examinera l'opportunité que cette nouvelle situation offre aux pays de l'Europe continentale pour renforcer leur coopération avec les États-Unis en matière de défense dans le cadre de l'OTAN, et particulièrement face à l'interventionnisme russe en Europe de l'Est. En raison du Brexit, le Royaume-Uni perdra vraisemblablement de son influence auprès des institutions de l'UE liées aux relations extérieures (PESC et PSDC), ce qui signifie que les États-Unis devront travailler plus étroitement avec l'UE en matière de coopération stratégique. Le Traité de Lisbonne définit les affaires étrangères et la défense comme étant du domaine de la politique intergouvernementale. Par conséquent, les relations extérieures de l'UE ont été limitées à des mesures de sécurité non-contraignantes. Le contexte actuel d'instabilité internationale suggère que cela n'est plus suffisant, ce qui a encouragé plusieurs responsables de l'UE à réclamer un renforcement des institutions de coopération militaire. Le Brexit a rendu ce souhait possible, sachant que le Royaume-Uni, qui avait jusque-là opposé son veto à toute tentative dans ce sens, ne pourra plus le faire. Néanmoins, pour préserver la cohésion de l'alliance occidentale, il est essentiel que les États-Unis, le Royaume-Uni, et d'autres pays non-membres de l'UE soient à l'avenir plus étroitement associés à la PESC et la PSDC. Bien que des négociations seront nécessaires pour déterminer quelles en seraient les implications pour l'OTAN, où les États-Unis occupent une position dominante, une coopération accrue de l'UE en matière de défense offrirait la possibilité de renforcer l'OTAN et l'alliance occidentale dans son ensemble.
Fichier principal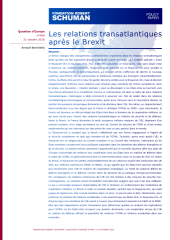 arnault.barichella.brexit-et-relations-transatlantiques.pdf (334.75 Ko)
Télécharger le fichier
Origin : Publisher files allowed on an open archive