Les temps changent, renouvellement générationnel et évolutions politiques en France
The impact of generational renewal on political and civic life is often neglected in public and scientific debates. The reasons for this disinterest concern the pervasiveness and contributions of research on primary socialization and life-cycle effects as well as a tendency of research to adopt a Mannheimian perspective on political generations. In fact, cohort analysis of the left or right positioning of French people on the political spectrum since the 1970s brings to light major changes. Generational renewal is not politically neutral : it handicaps the right while bringing about an increase in the proportion of « non-aligned ». What may be seen through generational renewal is the deep transformation of the notions of left and right in France, due to the emergence of cultural issues but also a redefinition of attitudes toward politics generally and voting in particular.
L'impact du renouvellement générationnel sur la vie politique et citoyenne reste trop souvent négligé à la fois dans les débats publics et scientifiques. Les raisons de ce désintérêt tiennent à la fois à la prégnance et les apports des études sur la socialisation, et donc sur le cycle de vie, et à une focale de la recherche sur les générations politiques au sens de K. Mannheim. Pourtant l'analyse par cohorte du placement à gauche ou à droite des Français depuis les années 1970 permet de mettre en évidence des transformations majeures. Le renouvellement générationnel n'est pas politiquement neutre. Il handicape la droite et fait progresser la part des « non alignés ». A travers le renouvellement générationnel se donne alors à voir la transformation en profondeur des notions de gauche et de droite dues notamment à l'émergence des enjeux culturels, mais également une redéfinition des rapports à la politique en général et au vote en particulier.
Fichier principal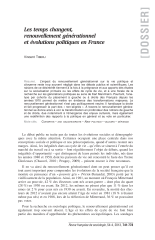 2013-tiberj-les-temps-changent-renouvellement-generationnel.pdf (1.11 Mo)
Télécharger le fichier
Origin : Publisher files allowed on an open archive