Les idéologies professionnelles
In the absence of surveys on how police officers vote, studying professional ideologies, which are an expression of a form of politicization of ordinary police officers, which is an integral part of their professional socialization, allows us to approach political orientations in the world of the police. Using a questionnaire survey of 5,221 police officers of all ranks, we identified ideological dissension on how the job of police officer is conceived. The analysis was based on a latent class analysis, which brings to light three opinion classes: repressive, median and preventive. These three profiles allow us to distinguish police officers by their responses to the questions of what the primary tasks of the police are, which groups should be monitored, who the police should choose as partners, and the causes of delinquency. Analysis of the social and professional attributes of police officers in each of the three opinion classes then reveals the preponderance of professional characteristics over socio-demographic variables in the three classes.
En l'absence d'enquête sur le vote policier, l'étude des idéologies professionnelles, qui traduisent une forme de politisation des policiers ordinaires, partie intégrante de la socialisation professionnelle, permet d'approcher les orientations politiques du monde des policiers. À partir d'une enquête par questionnaire auprès de 5 221 policiers de tous grades, on a procédé au relevé des dissensions idéologiques sur la conception du métier policier. L'analyse est fondée sur la méthode des classes latentes, dont l'application fait ressortir trois classes d'opinion que l'on a qualifiées de répressive, médiane et préventive. Ces trois profils permettent de distinguer les policiers sur la question des missions prioritaires de la police, des populations à surveiller, des partenaires avec qui collaborer et des causes de la délinquance. L'analyse des propriétés sociales et professionnelles des policiers relevant de chacune des trois classes d'opinion montre ensuite la prépondérance des caractéristiques professionnelles sur les variables sociodémographiques dans la distribution au sein des trois classes.
Fichier principal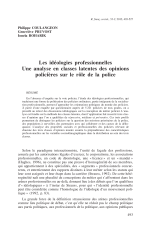 2012-coulangeon-pruvost-roharik-les-ideologies-professionnelles.pdf (242.05 Ko)
Télécharger le fichier
Origin : Publisher files allowed on an open archive