La dimension spatiale de l'intégration : évolution de la ségrégation des populations immigrées en France entre 1968 et 1999
The article gives an empirical overview of the question of segregation as it affects immigrant groups in France, presenting quantified information, of a sort very seldom found in previous French research, on segregation levels for these population groups and how they evolved, information derived from five consecutive censuses, here analyzed by means of varied measurement tools. Theory for explaining connections between immigrant integration and immigrant distribution in space is reviewed. Whereas the theory of spatial assimilation predicts that segregation will disappear « naturally », this article observes regularly decreasing segregation levels only for Spanish and Italian immigrants. Immigrants from Africa and Turkey not only have much higher segregation levels but also show more variable change over time, change that is difficult to interpret in terms of spatial assimilation. Using a variety of measurement tools and increasing the number of geographic zones analyzed brings to light the many diverse facets of spatial segregation and the complexity of quantitatively analyzing this phenomenon.
Cet article propose un état des lieux empirique de la question de la ségrégation des populations immigrées en France. Il fournit des informations quantifiées, jusqu'ici très rares dans la recherche française, sur le niveau et l'évolution de la ségrégation de ces populations en utilisant les données issues de cinq recensements successifs et en diversifiant les outils de mesure. Un passage en revue théorique explicite les liens entre l'intégration des immigrés et leur distribution dans l'espace. Alors que la théorie de l'assimilation spatiale prédit une sorte de disparition naturelle de la ségrégation, les évolutions régulièrement décroissantes ne sont observées dans ce travail que pour les immigrés venus d'Espagne et d'Italie. Les immigrés venus d'Afrique ou de Turquie se caractérisent non seulement par des niveaux de ségrégation bien plus forts mais également par des évolutions plus contrastées, difficilement interprétables en termes d'assimilation spatiale. La multiplication des outils de mesure ainsi que des zones géographiques analysées met en évidence la complexité de l'analyse quantitative de la ségrégation spatiale et la diversité des facettes de ce phénomène.
Fichier principal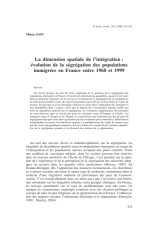 2009-safi-la-dimension-spatiale-de-l-integration.pdf (1.35 Mo)
Télécharger le fichier
Origin : Publisher files allowed on an open archive