Des poissons et des mares : l'analyse de réseaux multi-niveaux
This article proposes a neo-structural approach to the multi-level dimension of organizational and social life. Our study explores multi-level networks that observe two systems of superposed and partially interlocked interdependencies, the first being inter-organizational, the second interindividual. We propose a method of structural linked design as an articulation for these levels. The method is composed of two major steps: first, we separately examine the complete networks at the two different levels. Second, we articulate the two networks in relation to one another using systematic information about the membership of each individual in the first network (interindividual) to one of the organizations in the second network (inter-organizational). This dual positioning, or the linked design approach, is carried out in an empirical study examining performance variations within the "elite" of French cancer research in 1999. By looking at measures of centrality, we identify the actors that these top researchers consider as central or peripheral at the inter-individual level (the big and the little fish among the elite), and the laboratories that the research directors consider as central or peripheral at the inter-organizational level (the big and the little ponds among all the laboratories conducting cancer research in France at that time). In addition to the rather trivial report of the competitive advantage of big fish in big ponds (particularly because of the advantage of size for laboratories in this domain of research), we use measurements of scientific performance to identify "catching up" strategies that the smallest fish use in this system. We suggest that this method offers new insights into the multilevel dimension of complex systems of interdependencies, and also into the way in which actors manage these interdependencies. We believe that this understanding adds a new dimension to the sociological exploration of the determinants of performance, of meso-level phenomena such as institutional change, or macro-level phenomena such as social inequalities.
Cet article propose une approche néo-structurale de la dimension multi-niveaux de la vie organisationnelle et sociale. L'approche explorée s'appuie sur une étude de réseaux multiniveaux observant deux systèmes d'interdépendances superposés et partiellement emboîtés, l'un inter-organisationnel et l'autre inter-individuel. Nous proposons un mode d'articulation de ces niveaux, la méthode du linked design structural. Cette méthode consiste à examiner séparément des réseaux complets de niveaux différents, puis à les articuler grâce à des informations systématiques sur l'appartenance de chaque individu du premier réseau (interindividuel) à l'une des organisations du second réseau (inter-organisationnel). L'approche fondée sur ce double positionnement structural est mise en œuvre dans une recherche empirique sur les variations de performance au sein de l'« élite » de la recherche française en cancérologie en 1999. Grâce à des mesures de centralité, nous identifions les acteurs que ces chercheurs considèrent comme centraux ou périphériques à l'échelle inter-individuelle (les gros et les petits poissons) et les laboratoires que les directeurs de recherche considèrent comme centraux ou périphériques à l'échelle inter-organisationnelle (les grandes ou les petites mares). Au-delà du constat trivial de l'avantage concurrentiel des gros poissons dans les grandes mares (en particulier du fait de la prime à la taille dans ce domaine de recherche), nous mettons en évidence, dans la course à la performance scientifique mesurée à l'échelle individuelle, des stratégies de « rattrapage » utilisées dans ce système par les plus petits poissons. Nous suggérons que cette méthode apporte une connaissance originale de la dimension multi-niveaux des systèmes d'interdépendances et de la manière dont les acteurs gèrent ces interdépendances. Nous pensons qu'elle ajoute une dimension nouvelle à l'exploration méso-sociologique, que ce soit pour l'étude des inégalités sociales ou pour celle du rôle des élites dans les changements institutionnels.
Fichier principal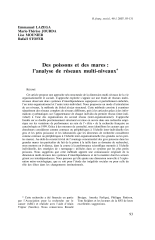 2007-lazega-jourda-mounier-stofer-des-poissons-et-des-mares.pdf (506.33 Ko)
Télécharger le fichier
Origin : Publisher files allowed on an open archive