Les progrès du raisonnable : Une évolution des valeurs en Europe de l'Ouest et aux États-Unis entre 1980 et 2000
The advance of reasonableness : a trend in values in Western Europe and the United States from 1980 to 2000. Most studies of the values of Europeans and Americans conclude that recent developments reflect an increasingly strong affirmation of individualism. The question arises, however, whether the real change is not instead to be located « upstream », in the opening up of reason to acknowledgment of the other's reasons. Data from the 1981,1990 and 1999 editions of the World Values Survey were used to test this hypothesis. After synthesizing the data in accordance with the seven survey theme areas (lifestyles, civic-mindedness, social selectiveness, religion, work, family and education), we examined congruence between these units and our model. We also tested competing models ; namely postmaterialism, « return to authority », and modernity as the only rational world. In the final analysis, the « advance of reasonableness » thesis proved more general and parcimonious than the others as a means of accounting for value trends in Western Europe and the United States from 1980 to 2000.
La plupart des études sur les valeurs des Européens et des Américains s'accordent à soutenir que les évolutions récentes traduisent une affirmation sans cesse plus marquée de l'individualisme. On peut toutefois se demander si la véritable évolution ne se situe pas plutôt en amont dans l'ouverture de la raison aux raisons d'autrui. En ce cas, l'expression des différences de valeurs s'effectuerait au sein d'un cadre raisonnable où l'individu s'efforce de penser la coexistence de ses valeurs avec celles d'autrui. Pour tester cette hypothèse, nous nous sommes appuyés sur les enquêtes mondiales sur les valeurs (World Value Survey) de 1981,1990 et 1999. Après avoir effectué une synthèse des données selon les sept thèmes de l'enquête (modes de vie, civisme, sélectivité sociale, religion, travail, famille et éducation), nous avons examiné la congruence entre ces blocs et notre modèle. Nous avons également mis à l'épreuve les modèles concurrents, à savoir ceux du postmatérialisme, du « retour à l'autorité » et d'une modernité qui serait seule rationnelle. Tout pris en compte, la thèse d'un progrès du raisonnable s'avère plus générale et parcimonieuse que les autres pour rendre compte des évolutions de valeurs en Europe de l'Ouest et aux États-Unis entre 1980 et 2000.
Fichier principal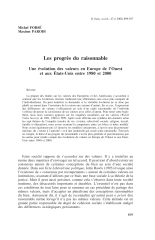 2006-forse-parodi-les-progres-du-raisonnable.pdf (202.68 Ko)
Télécharger le fichier
Origin : Publisher files allowed on an open archive