Politiques d'enseignement et coalitions industrialo-universitaires
The object of the analysis is to define a policy of higher education as a socio-symbolic production and account for some of its specific characteristics. The knowledge dispensed by institutions of higher education cannot be considered simply as belonging to scientific disciplines defined a priori and combined rationally with respect to a given set of professional demands. On the contrary it is shown that the act of setting up a curriculum means participating both in the process of producing and limiting the various scientific disciplines and in the elaboration of the social use to be made of the knowledge and know-how constituting these disciplines. A policy of higher education thus accomplishes an arbitration between social groups differing from one another both in their scientific project and in their aims to transform society. Because these cleavages cut through the scientific community and the industrial milieu in particular, an analysis of the action of different coalitions between industry and the university enables the AA. to account for the originality of certain educational policies. An historical study of the educational policies of two French schools of chemical engineering is used to illustrate and validate the AA.s approach.
L'analyse vise à caractériser une politique d'enseignement supérieur comme une production socio-symbolique et à tenter de rendre compte de certaines de ses spécificités. Il n'est en effet pas possible de considérer les savoirs dispensés par un établissement d'enseignement supérieur comme une combinaison, rationnelle eu égard à des exigences professionnelles données, de disciplines scientifiques définies a priori. On montre au contraire qu'élaborer un curriculum c'est participer tout à la fois au procès de production-délimitation de différentes disciplines scientifiques et à la définition de l'usage social des savoirs et savoir-faire qui les constituent. Une politique d'enseignement supérieur réalise donc un arbitrage entre différents groupes sociaux qui diffèrent tant par leur projet scientifique que par leurs visées de transformation de la société. Parce que ces clivages traversent notamment la communauté scientifique et le monde industriel, c'est en analysant l'action de différentes coalitions industrialo-universitaires que l'on s'efforce de rendre compte de l'originalité de certaines politiques d'enseignement. Pour illustrer et valider cette démarche on s'appuie sur l'étude historique des politiques d'enseignement de deux écoles françaises d'ingénieurs chimistes.
Fichier principal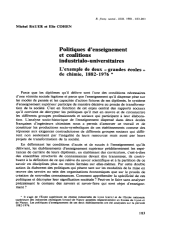 1981-bauer-cohen-politiques-d-enseignement-et-coalitions-industrialo-universitaires.pdf (1.82 Mo)
Télécharger le fichier
Origin : Publisher files allowed on an open archive