Does the French Bioethics Law create a 'moral exception' to the use of human cells for health ?
This article focuses on the legal and organisational regulation of human cells in the United Kingdom and France. French Bioethics Law regulates human cells for health according to European Union law where it is enforceable. But products unregulated by EU law and based on human cells are never considered as medicinal products, given the strict implementation of the principle of "nonpatrimonialité" of the human body and its elements. By comparison, in the UK such products can be qualified as medicinal products. Moreover, the setting up of the UK stem cell bank gives rise to the development of policies which expand the stem cell as a legal object. The paper discusses how these societies' ethical and legal commitments underlie organisational practices in order to analyse the relationship between the existence (or not) of a national stem cell bank and the broader regulation of human cells.
Este artículo se centra en la regulación legal y organizativa sobre células humanas en el Reino Unido y Francia. La ley de bioética francesa regula las células humanas para la salud de acuerdo con la legislación de la Unión Europea, donde ésta tiene vigencia. Sin embargo, los productos no regulados por la legislación de la UE que hacen referencia a las células humanas no son considerados como medicamentos sujetos a la estricta aplicación del principio de "no patrimonialidad" del cuerpo humano y sus elementos. En comparación, estos productos en el Reino Unido pueden ser calificados como productos medicinales. Por otra parte, la creación del banco de células madre en el Reino Unido da lugar al desarrollo de políticas de elaboración que se expande a las célulasmadre en el campo de los objetos jurídicos. Este artículo muestra cómo los compromisos éticos y legales que estas sociedades han adoptado subyacen a las prácticas organizativas de estos países. Su propósito es analizar la relación entre la existencia (o no) de un banco nacional de células madre y la regulación más amplia del uso de células humanas.
Fichier principal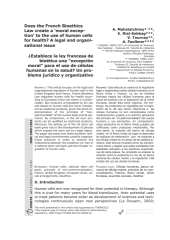 dialnet-doesthefrenchbioethicslawcreateamoralexceptiontoth-3743335.pdf (207.18 Ko)
Télécharger le fichier
Origin : Publisher files allowed on an open archive