OGM : un terme polysémique à l'épreuve de la communication et de l'évaluation
The history of genetic engineering is inseparable from the development of risk management policies, and the first standards regulating genetic manipulation were established towards the end of the 1970s. However, although the idea of genetically modified organisms (GMOs) has been a topic of heated public debate for more than twenty years, the term itself is multivalent in the extreme. The expression "genetically modified" is not so much a scientific term as an oversimplified description of modifications made to biological systems. It is mainly a category used for legal purposes that has come into common parlance, but scarcely reflects the biological complexity involved or the diversity of the technological processes used. Its widespread use among the public has masked its multivalency as well as the need for a sense of proportion in assessing the potential risks of products manufactured by genetic engineering. This has raised serious issues in terms of information and communication, in that order. Uses of the term GMO should be based on very exact definitions that will vary depending on techniques. The communicational issue is becoming increasingly acute with the emergence of new techniques for biological modification that are likely to be assessed according to the current socio-legal model for GMOs, even though some are producing organisms that cannot be distinguished from natural variants. These practices therefore call both current legal definitions and communication strategies into question. They also underline the multivalency of the term "genetically modified", which has different meanings depending on whether it used as a legal or biological term or in common parlance.
L'histoire de l'ingénierie génétique est indissociable de la mise en place d'une politique de gestion des risques. Aussi, les premières normes d'encadrement des manipulations génétiques furent-elles posées dès la fin des années soixante-dix. La notion d'organismes génétiquement modifiés (OGM), à l'origine de débats publics animés depuis plus d'une vingtaine d'années, reste extrêmement polysémique. En effet, l'expression « génétiquement modifié » est moins un terme scientifique qu'une qualification simplificatrice de modifications opérées sur les systèmes biologiques. C'est principalement une catégorie juridique, passée dans le langage courant, qui se superpose mal à la complexité biologique et à la diversité des processus technologiques mis en œuvre. La banalisation de son usage altère la compréhension publique de la pluralité de ses formes et de la proportionnalité qui devrait prévaloir pour l'évaluation des éventuels risques associés aux produits de l'ingénierie génétique. De cela découle des enjeux forts en terme d'information, puis de communication. Le terme OGM devrait reposer sur une définition extrêmement fine et évolutive suivant les techniques. Ainsi, les enjeux communicationnels sont aujourd'hui d'autant plus prégnants que de nouvelles techniques de modification biologique sont susceptibles d'être considérées selon le modèle socio-juridique actuel des OGM, alors que, pour certaines, elles génèrent des organismes qui ne sont pas distinguables de variants naturels. Dès lors, ces pratiques interrogent l'actualité de la définition juridique et les stratégies communicationnelles. Elles mettent également en exergue la polysémie de la notion du « génétiquement modifié » qui recouvre des acceptions différentes selon son usage juridique, biologique ou de sens commun.
Fichier principal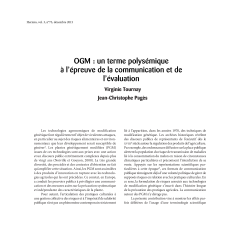 2015-tournay-ogm-un-terme-polysemique-a-l-epreuve-de-la-communication-et-de-l-evaluation.pdf (1.02 Mo)
Télécharger le fichier
Origin : Files produced by the author(s)