Zones d'Éducation Prioritaires : enjeux d'une politique
The object of this article is to focuse on the philosophical dimension of the school policy called « Zone d'Education Prioritaire » (Z.E.P.) which was setting up in 1981 by Alain Savary's gouvernment. Does this policy represent an alternative to the principle equality, foundation of french school institution ? Does it apply in the school domain a new treatement of inequalities or a logical outcome of a general evolution ? To answer a interrogation such as this, we must inscribe the Z.E.P, firstly, in the french school's ideological and historical basis and secondly, in the political and intellectual current events. We argue to defend the thesis of a intellectual and historical continuity between the principle of egality, which caracterises Revolution's school plan, and the principle of equity, seemingly most contemporany.
Este articulo enfoca la luz en la dimensión filosofica de la política escolar, Hamada « Zone d'Éducation Prioritaire » (Z.E.P), instaurada por el govierno de Alain Savary en 1981. Representa esta política una alternativa a la igualdad, principio fundamental de las instituciones escolares francesas ? Aplica un nuevo tratamiento de las desigualdades en el dominio escolar o ilustra al contrario el resultado lógico de una evolución general ? Para responder a estas interogaciones es necesario de inscribir la política de los Z.E.P. por un lado, en sus cimientos ideológicos y históricos, y por otro lado en el contexto sociológico, político y intelectual. Nuestra anàlysis defenda la tesis de la continuidad intelectual y histórica entre el principio de la igualdad, caracteristico de los proyectos de la Revolución, y el principio de la equidad, aparamente màs contemporaneo.
Cet article met en lumière la dimension philosophique de la politique scolaire appelée « Zone d'Éducation Prioritaire » (Z.E.P.), mis en place par le gouvernement d'Alain Savary en 1981. Cette politique constitue-t-elle une alternative au principe fondamental des institutions scolaires françaises - l'Égalité ? Applique-t-elle au domaine scolaire un nouveau traitement des inégalités ou illustre-elle au contraire le résultat logique d'une évolution générale ? Pour répondre à ces interrogations, il est nécessaire d'inscrire la politique des Z.E.P., d'une part, dans ses fondements idéologiques et historiques, et d'autre part, dans son contexte sociologique, politique et intellectuel. Notre analyse défend la thèse de la continuité intellectuelle et historique entre le principe d'égalité, caractérisant les projets de la Révolution, et le principe d'équité, apparemment plus contemporain.
Fichier principal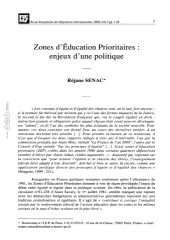 article-remi-0765-0752-2000-num-16-3-1739.pdf (1.79 Mo)
Télécharger le fichier
Origin : Publisher files allowed on an open archive