De la parité à la diversité : entre Deuxième sexe et discrimination seconde
In keeping with works on the origins and evaluation of France's 'parity' laws, this paper examines the issues involved in the shift in emphasis from 'parity' to 'diversity' in the French public sphere. The paper builds on, and contributes to, studies of the emergence of the term 'diversity', its social meanings and the debates concerning its measurement. Our hypothesis is that this shift helps institutionalise an equality that has become conditional on the performance of difference. To test this hypothesis, the analysis cross-references reports, scholarly studies and declarations on diversity with a qualitative survey of more than 150 public figures who are affected by the emergence of diversity as a social and political problem in the public sphere. The interviewees include politicians, civil servants, academics, and leaders of religious groups, pressure groups, trade unions and businesses.
En continuité avec les travaux portant sur la genèse et l'évaluation des lois dites sur la parité, nous questionnerons les enjeux du glissement de la parité à la diversité dans l'espace public français. Nous nous inscrirons ainsi en complémentarité avec les travaux sur l'émergence du terme de diversité, ses usages sociaux et les polémiques concernant sa mesure. Notre hypothèse est que ce glissement participe à l'institutionnalisation d'une égalité sous condition de performance de la différence. Afin de la tester, nous avons croisé l'analyse de rapports, travaux et déclarations sur la diversité avec une enquête qualitative auprès de plus de 150 actrices et acteurs concernés par l'émergence de la diversité comme problème social et politique dans l'espace public : des responsables politiques, institutionnels, religieux, associatifs, syndicalistes, du monde de l'entreprise et des universitaires.
Fichier principal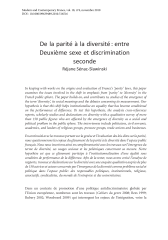 2010-senac-de-la-parite-a-la-diversite.pdf (287.99 Ko)
Télécharger le fichier
Origin : Files produced by the author(s)