Circulez, y a [pas d'Etat] à voir
Move along, there's [no State] to see. Travel documents and identifi cation of nationals from a non-recognized State

The transnational mobility of the 23 million Taiwanese is inversely proportional to the degree of recognition of their State. In their case, for destination countries, the fundamental tension between facilitating freedom of movement and ensuring security, which is the basis of the need for travel documentation, is shifted. The issue at stake is less to keep these people under close watch than to avoid giving recognition to their State. An analysis of the passports, visas, and identifi cation papers of Taiwanese travelling abroad highlights processes of neutralization, inversion, suspension proper to the Foucauldian heterotopia in order to resolve this shifted tension. The argument follows a dual diachrony: that of the journey in its three sequences – departure, entry, and the sojourn abroad – and, within each of the three respective sequences, that of the regulations adopted by foreign States in order to attract nationals from a State that they refuse to recognize.
La mobilité transnationale des 23 millions de Taiwanais est inversement proportionnelle au degré de reconnaissance de leur Etat. Dans leur cas, la tension qui est au fondement des documents de voyage entre liberté de circulation et impératif d'ordre sécuritaire est déplacée : il s'agit moins de surveiller des individus que de veiller à ne pas reconnaître leur Etat. L'analyse des passeports, visas et papiers d'identification des Taiwanais à l'étranger met en évidence des logiques de neutralisation, d'inversion et de suspension propres à l'hétérotopie foucaldienne afin de résoudre cette tension déplacée, l'exception taiwanaise ayant in fine valeur d'indice. Le raisonnement suit une double diachronie : celle du périple dans ses trois moments successifs – le départ, l'entrée et le séjour à l'étranger – et, au sein de chacun d'entre eux, celle des réglementations adoptées par les Etats étrangers pour attirer les ressortissants d'un Etat qu'ils refusent de reconnaître.
Fichier principal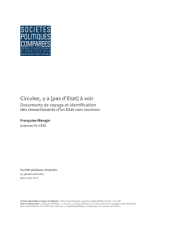 2017-05-mengin-spc-varia1-n41.pdf (463.08 Ko)
Télécharger le fichier
Origin : Publisher files allowed on an open archive