Introduction. Ce que les écrits font au travail
As is known, large numbers of writings circulate within every kind of professional environment. As a result, there is extensive research on the formats, uses and roles of writings in work. However, the approach taken here is not to describe what is done with writings in work. The central hypothesis rests on a performative vision of writings, one that gives them the power to act, agency. It can be summed up as follows: what do writings "do" to work? Studying work through its writings is a way to connect two dimensions that are too often kept separate: situated activities on the one hand, organizational functions on the other. Indeed, writings are material and robust — though not always lasting — traces of concrete activities, and they provide a handhold for the rigorous analysis of work as close as possible to its conditions of realization. However, writings travel and circulate. They form links between workers, groups, workshops, services, firms, without which production could not take place. They stretch work beyond its source. To track them is therefore to shift the field of enquiry to moments other than the present of the observed situation, and also to other nearby, surrounding workspaces. This brings out the procedural and interactive dimensions of organizations, their integrating capacity. Exploring what writings do to work is therefore not only to place oneself at an intermediate level between situated action and organized action. For the sociologist, it is a way of connecting these two perspectives "on paper", by embedding the analysis of the actual work in spatially and temporally broader collective actions, and by documenting organizational analysis on the basis of observed work situations. It is a way of contributing to a more extensive ecology of activity, more clearly anchored within its organizational envelope.
Les écrits, on le sait, circulent en abondance dans les milieux professionnels les plus divers. Aussi nombre de recherches portent-elles sur les formats, les usages et les rôles des écrits dans le travail. Mais la piste suivie ici ne vise pas à rendre compte de ce qui est fait des écrits dans le travail. L'hypothèse centrale repose sur une vision performative des écrits, qui leur prête un pouvoir d'agir, une agency. Elle peut se résumer ainsi : qu'est-ce que les écrits « font » au travail ? Étudier le travail par ses écrits permet d'en articuler deux dimensions trop souvent séparées : les activités situées d'une part, les fonctionnements organisationnels de l'autre. En effet, les écrits sont des traces matérielles et robustes sinon toujours pérennes, des activités concrètes, et ils offrent une prise pour l'analyse rigoureuse du travail au plus près de ses conditions de réalisation. Mais les écrits voyagent et circulent. Ils tissent des liens entre travailleurs, groupes, ateliers, services, firmes, sans lesquels la production ne pourrait pas aboutir. Ils étirent le travail. Les suivre, c'est donc déplacer l'enquête vers d'autres moments que le présent de la situation observée, vers d'autres espaces de travail aussi, à côté, aux alentours. Se révèlent alors les dimensions processuelle et interactive des organisations, leur propriété intégratrice. Ainsi, considérer ce que les écrits font au travail, ce n'est pas seulement se placer à un niveau intermédiaire entre celui de l'action située et celui de l'action organisée. C'est, pour le sociologue, la possibilité d'articuler « sur pièces » ces deux perspectives, en inscrivant l'analyse du travail concret dans des actions collectives plus larges, spatialement et temporellement, et en documentant l'analyse organisationnelle à partir des situations de travail observées. C'est proposer une contribution à une écologie de l'activité plus extensive, plus clairement arrimée à son enveloppe organisationnelle.
Fichier principal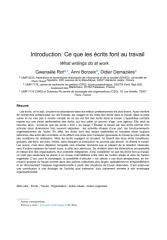 2014-rot-borzeix-demaziere-introduction-ce-que-les-ecrits-font-au-travail-vauteur.pdf (288.49 Ko)
Télécharger le fichier
Origin : Files produced by the author(s)