La socialisation dans les 'communautés' de développement de logiciels libres
A collective activity based on voluntary, benevolent commitment, the production of free software does not result from the spontaneous adjustment of dispersed participation. It offers fertile terrain for the analysis of non-local relationships mediated by the internet. Indeed, this activity is subject to a double constraint: that of attracting numerous participants without any previous selection as well as that of channeling contributions to put together a consistent and coherent product. Based on the detailed ethnography of a group involved in the development of free software, this article analyses how individual differences are organized, that is, mobilised and controlled. It identifies processes of socialisation that deploy a maximum tolerance towards individual subjective commitment and a differential recognition of contribution to the common work and of the authors. This is a specific kind of socialisation in that it regulates less the personal identity of participants than the collective identity of hte project, including both the product and the production group.
Actividad colectiva basada en el compromiso voluntario y benévolo, la producción de programas informáticos libres no resulta del ajuste espontáneo de participaciones dispersas. Ella ofrece un terreno fértil para el análisis de las relaciones distantes mediatizadas por la red Internet. En efecto, esta actividad está sometida a una doble dificultad : atraer numerosos participantes, sin selección previa, y canalizar las contribuciones con el fin de poner a punto un producto consistente y coherente. A partir de la etnografía profunda de un colectivo de desarrollo de programa informático libre, este artículo analiza la manera en que las heterogeneidades individuales se arreglan, es decir, se movilizan y controlan. El programa define procesos de socialización que articulan una tolerancia máxima respecto a los compromisos subjetivos individuales y un reconocimiento diferencial de las contribuciones a la obra común y de sus autores. Esta socialización es específica, en el sentido que ella controla menos las identidades personales de los participantes que la identidad colectiva del proyecto, incluyendo el producto y al grupo de producción.
Activité collective fondée sur l'engagement volontaire et bénévole, la production de logiciels libres ne résulte pas de l'ajustement spontané de participations dispersées. Elle offre un terrain fertile pour l'analyse des relations distantes médiatisées par le réseau Internet. En effet, cette activité est soumise à une double contrainte : attirer des participants nombreux, sans sélection préalable, et canaliser les contributions afin de mettre au point un produit consistant et cohérent. Partant de l'ethnographie approfondie d'un collectif de développement de logiciel libre, cet article analyse la manière dont les hétérogénéités individuelles sont agencées, c'est-à-dire mobilisées et contrôlées. Il identifie des processus de socialisation qui articulent une tolérance maximale à l'égard des engagements subjectifs individuels et une reconnaissance différentielle des contributions à l'oeuvre commune et de leurs auteurs. Cette socialisation est spécifique, dans le sens où elle régule moins les identités personnelles des participants que l'identité collective du projet, incluant le produit et le groupe de production.
Fichier principal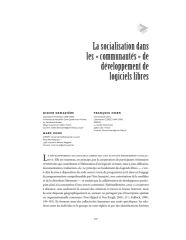 2009-demaziere-horn-zune-la-socialisation-dans-les-communautes-de-developpement-de-logiciels-libres.pdf (161.23 Ko)
Télécharger le fichier
Origin : Publisher files allowed on an open archive