L'ancien, l'établi, l'émergent et le nouveau : quelle dynamique des activités professionnelles ?
Berufliche Tätigkeiten werden vielfach mit Bezeichnungen wie "alt – etabliert – im Entstehen begriffen – neu" beschrieben. Angesichts der Vielfalt monographischer Abhandlungen über die unterschiedlichen Berufswelten möchte dieser Beitrag die Bedeutung dieser Terminologie hinterfragen. Der Fokus liegt dabei auf der Analyse beruflicher Dynamiken sowie auf den Prozessen der Arbeitsgestaltung. Fazit ist: Arbeitsteilung befindet sich in einem noch andauernden, nicht abgeschlossenen Prozess; berufliche Spezialisierung weist eine moralische Dimension aufweist; die Abschottung der Arbeitsmärkte ist nur relativ; reglementierte Berufe und nicht klar umrissene Tätigkeiten interagieren; Professionalisierung bezeichnet kein eindeutiges Phänomen; Professionalismus stellt einen heterogenen, extrem gespaltenen Prozess dar.
Old, established, emergent and new: these terms are frequently used to qualify occupational activities. After noting the increasing numbers of monographs being published on various occupational fields, it was proposed to look at the meaning of these terms. The following conclusions emerged from this analysis of occupational dynamics and the processes involved: the division of labour is a continuous, never-ending process, occupational specialisation includes moral aspects, the barriers between labour markets are purely relative, regulated professions interact with more fuzzy occupations, professionalisation is an ambiguous, paradoxical procedure, and professionalism involves heterogeneous, highly segmented processes.
Lo antiguo, lo establecido, lo emergente, lo nuevo son términos que a menudo califican a las actividades laborales. Al partir de la constatación de la multiplicación de monografías dedicadas a mundos profesionales varios, este artículo interroga el sentido de esta terminología. Desprende así algunas líneas de fuerza en el análisis de las dinámicas profesionales y de los procesos de configuración del trabajo, mostrando que : la división del trabajo es un proceso continuo y siempre inacabado, la especialización profesional tiene una dimensión moral, las clausuras de los mercados de trabajo son relativas, las profesionales reglamentadas y las actividades poco precisas interactúan, la profesionalización es un movimiento ambiguo y paradójico, el profesionalismo es un proceso heterogéneo y eminentemente fragmentado.
L'ancien, l'établi, l'émergent, le nouveau sont des termes qui qualifient souvent les activités professionnelles. Partant du constat de la multiplication de monographies consacrées à des mondes professionnels variés, cet article interroge le sens de cette terminologie. Il dégage ainsi quelques lignes de force dans l'analyse des dynamiques professionnelles et des processus de configuration du travail, en montrant que : la division du travail est un procès continu et toujours inachevé, la spécialisation professionnelle a une dimension morale, les clôtures des marchés du travail sont relatives, les professions réglementées et les activités floues interagissent, la professionnalisation est un mouvement ambigu et paradoxal, le professionnalisme est un processus hétérogène et éminemment clivé.
Fichier principal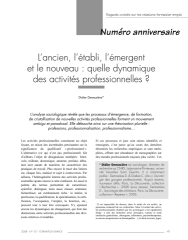 formationemploi-1008-101-l-ancien-l-etabli-l-emergent-et-le-nouveau-quelle-dynamique-des-activites-professionnelles.pdf (513.07 Ko)
Télécharger le fichier
Origin : Publisher files allowed on an open archive