Des relations de travail sans règles ?
The development of free software is based on individual and voluntary involvement by the participants. The potentially unstable and unorganized contributions they make must be structured and coordinated to result in the production of coherent software. This particular productive configuration delimits the enigma surrounding work in this production universe: how are contributions made, how is this project sustained over time, how is the quality of the product ensured, how are failures handled...? The longitudinal and in-depth analysis of a project that has experienced rapid success shows how these communities are structured, with the progressive emergence of processes like work division, differentiation of positions, selection of contributions, recruitment of animators, transfer of responsibilities. However, this work organization presents original characteristics, due to the absence of contractualization in terms of relations, financial retribution, subordination rules and eviction procedures. It remains largely implicit, but is required in order to articulate two partially contradictory objectives: mobilizing contributors and generating investment in the production of the software, and on the other hand maintaining the cohesion of an expanding work community while preserving software identity.
Le développement de logiciels libres repose sur les engagements individuels et volontaires des participants. Ceux-ci réalisent des contributions potentiellement instables et désordonnées qui, pour déboucher sur la production d'un logiciel cohérent et efficace doivent être agencées et coordonnées. Cette configuration productive particulière délimite l'énigme du travail dans cet univers de production : comment des contributions sont produites, comment le projet perdure dans le temps, comment la qualité du produit est-elle assurée, comment les défaillances sont-elles gérées... ? L'analyse longitudinale et approfondie d'un projet qui a connu un succès rapide permet de montrer comment de telles communautés se structurent, avec l'émergence progressive de phénomènes de division du travail, de différenciation des positions, de sélection des contributions, de recrutement d'animateurs, de délégation de responsabilités. Cette organisation du travail présente cependant des traits originaux, du fait de l'absence de contractualisation des relations, de rétribution monétaire, de règle de subordination, de procédure d'éviction. Elle demeure en grande partie implicite, mais elle est nécessaire afin d'articuler deux objectifs partiellement contradictoires : mobiliser les contributeurs et susciter des investissements dans la fabrication du logiciel d'une part, maintenir la cohésion d'un collectif de travail en expansion et préserver l'identité du logiciel d'autre part.
Fichier principal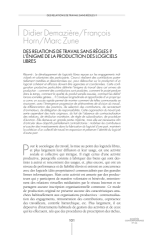 2007-demaziere-des-relations-de-travail-sans-regles.pdf (235.68 Ko)
Télécharger le fichier
Origin : Publisher files allowed on an open archive