Des cris au silence médiatique : les limites de la scandalisation
This article shows that no social situation of deviance has natural "properties", even when it concerns elites. It can be considered as a "problem", an "affair" or a "scandal". Each of those social qualifications is the result of four complementary variables: the degree of violation to the norm, the existence or not of victims and damage, the degree of attributed responsibility to the defendants, and the foreseen social reactions. The empirical analysis of a press kit dealing with a case of insider trading fraud including political actors highlights three phenomena. First, different possible qualifications co-exist in the media on the same event. In addition, the global evolution of discourses on the course of six months illustrates the decrease in arguments denouncing a political scandal and the increase of economic and technical arguments. Finally, the evolution of the content of each newspaper clarifies their analytical changes according to their editorial lines.
Cet article démontre qu'aucune situation sociale de transgression n'a de propriété « naturelle », même si elle concerne les élites. Elle peut être perçue aussi bien comme un « problème », comme une « affaire » ou comme un « scandale ». Chacune de ces qualifications sociales est le résultat de la combinaison de quatre variables : le degré de violation d'une norme ; l'existence ou non de victimes et de dommages ; le degré de responsabilité attribuée aux auteurs ; la réaction sociale attendue. L'analyse empirique d'un dossier de presse concernant un cas de fraude boursière impliquant des acteurs politiques met en évidence trois phénomènes. Tout d'abord, dans l'espace médiatique il y a au même moment co-existence des différentes qualifications possibles du même évènement. Ensuite, l'évolution globale des discours sur une durée de six ans montre la diminution des arguments dénonçant un scandale politique au profit des arguments techniques et économiques. Enfin, l'évolution du contenu de chaque journal précise les transformations de leurs analyses en fonction de leur ligne éditoriale.
Fichier principal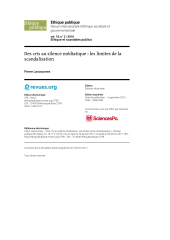 lascoumes-ethiquepublique-2799.pdf (191.08 Ko)
Télécharger le fichier
Origin : Files produced by the author(s)