Les députés, leurs assistants et les usages du crédit collaborateurs. Une sociologie du travail politique
This analysis of how the staffs of members of the French parliament are organized focuses on the tasks that deputies assign to their parliamentary assistants. The distribution of tasks among assistants suggests that the organization and division of labor should be understood mainly in relation to the pressures generated by elections in the home district. Most staff-members are assigned to this work, since a seat in the National Assembly very much depends on providing services to constituents. The staff is so involved in solving constituents' "personal" problems of various sorts that its members are forced to devise strategies for regulating demand and providing often token responses. Developing relations with constituents even affects the staff's legislative tasks. For deputies, it is a way to reduce the "occupational" risks inherent in elective office. Deputies adapt to a voting system that pushes them to adopt a conception of representation closer to being a spokesperson for a district's inhabitants than being a representative of the Nation.
Cet article propose une analyse des modes d'organisation des équipes parlementaires et étudie les tâches déléguées par les députés à leurs collaborateurs directs, les assistants parlementaires. L'analyse de la répartition des tâches au sein de ces équipes suggère que l'organisation et la division du travail doivent se comprendre principalement à partir des contraintes électorales pesant sur les députés en circonscription. La majorité des collaborateurs parlementaires y est affectée parce que l'exercice du métier de député implique le développement d'intenses relations de service en direction des électeurs. Les équipes parlementaires sont tellement sollicitées par les électeurs pour résoudre les problèmes personnels les plus divers qu'elles sont contraintes de développer des stratégies de régulation de la demande et d'y répondre souvent de manière symbolique. L'entretien de ces relations, qui rejaillit jusque dans le travail législatif, apparaît pour les députés comme un moyen de réduire le risque professionnel inhérent à une carrière élective. L'auteur montre l'adaptation des députés à un mode de scrutin qui les incite à adopter une conception de la représentation plus proche du porte-parole des habitants de la circonscription que du représentant de la Nation.
Fichier principal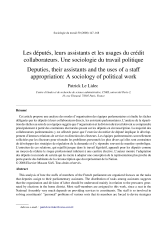 2008-le-lidec-les-deputes-leurs-assistants-et-les-usages-du-credit-collaborateurs.pdf (123.37 Ko)
Télécharger le fichier
Origin : Publisher files allowed on an open archive