Administrer un monde incertain : les nouvelles bureaucraties techniques
The creation of health agencies in France has stimulated public interventions in the managing of risks and emergencies. Health agencies are not mere technical organizations set up in response to a particular health crisis. They are political forms stemming from deeper social and political changes in public administration, scientific expertise and medicine. Part of a threefold trend toward opening administrative, scientific and medical doors, they have emerged out of the transformation of the public administration under the impact of theories about: new public management, the transparency of scientific expertise, and the development of public health. These processes are paradoxical however. They tend to favor the growth of new technical bureaucracies, whence questions about the latter's political responsibility. While agencies were supposed to reduce bureaucracy, they have broadened its borders and reinforced its structures. They constitute an intermediary space, where appear tensions between them and their supervisors. This arangement does singularly transform the balance between administrative and political powers. — Special issue: New patterns of institutions.
La création d'agences sanitaires en France a singulièrement renouvelé l'action publique en matière de gestion des risques et des crises. Les agences sanitaires ne constituent pas de simples dispositifs techniques créés pour répondre aux crises sanitaires. Ce sont des formes politiques qui résultent de transformations sociales et politiques plus profondes de l'administration, de l'expertise scientifique et de la médecine. Elles s'inscrivent dans un triple mouvement d'ouverture des espaces administratif, scientifique et médical : elles apparaissent comme le produit des transformations de l'administration sous l'effet des théories de la nouvelle gestion publique, d'une ouverture de l'expertise scientifique à des exigences de transparence et du développement de la santé publique. Pourtant, ces processus sont paradoxaux et favorisent l'apparition de nouvelles « bureaucraties techniques » posant la question de leur responsabilité politique. Là où les agences devaient réduire la bureaucratie, elles élargissent son périmètre et renforcent ses structures, en constituant un espace intermédiaire où apparaissent des tensions entre elles et leurs tutelles. Cet agencement transforme singulièrement l'équilibre des pouvoirs politiques et administratifs. — Numéro spécial : Les nouveaux formats de l'institution.
Fichier principal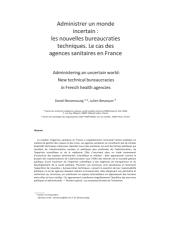 2005-benamouzig-besancon-administrer-un-monde-incertain-vauteur.pdf (251.55 Ko)
Télécharger le fichier
Origin : Files produced by the author(s)