Une lecture critique de l'ouvrage : Pour une révolution fiscale - Trois désaccords et certaines convergences
This article offers a critical reading of the book: "Towards a revolution of the French Tax System" by Landais, Piketty and Saez, 2011. Their work proposes to make the French tax system simpler, fairer and more progressive. It offers an analytical tool, enabling every citizen to evaluate the tax system and its possible reforms. At the same time, it gives a false overview of the current system, which it denounced wrongly the regressivity. Wanting to individualize the tax system, it refuses to consider that families share their resources as to use the concept of consumer unit, so it is impossible to determine whether the proposed reform does actually increase the redistributive features of the system. The simulator tax proposed is biased and does not allow to evaluate most tax reforms.
L'article propose une lecture critique de l'ouvrage de Landais, Piketty et Saez, Pour une révolution fiscale, 2011. Celui-ci propose de rendre la fiscalité française plus simple, plus juste, plus progressive. Il propose un instrument d'analyse, devant permettre à chaque citoyen d'évaluer la fiscalité française et les réformes possibles. En même temps, il donne une présentation caricaturale du système actuel, dont il dénonce à tort la régressivité. Voulant individualiser l'impôt, il refuse de considérer que les familles partagent leurs ressources, d'utiliser le concept d'unité de consommation, de sorte qu'il est impossible de déterminer si la réforme proposée augmente effectivement la redistributivité du système. Le simulateur fiscal proposé: est biaisé et ne permet pas à chacun d'évaluer les réformes fiscales.
Fichier principal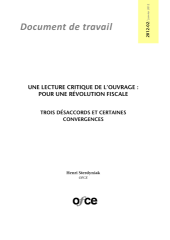 wp2012-02.pdf (149.5 Ko)
Télécharger le fichier
Origin : Explicit agreement for this submission