En quoi les " partis ethniques " sont-ils " ethniques " ? Les trajectoires du MDL en Bulgarie et de l'UDMR en Roumanie
A rather marginal theme in Eastern European studies before the end of communism, ethnic politics and minority policies in Central and South-East Europe have given birth to a very rich body of literature in the 1990s. Some analyses have been influenced by the so-called "transitology" paradigm; others have borrowed from ethnic conflict studies. In both cases, though, ethnocultural diversity has mostly been treated in a normative way and portrayed as an obstacle to democratization. As for ethnic parties, they have alternatively been presented as conducive to better political participation and integration for the minorities (in a multiculturalist perspective) or as a threat to state stability and to democracy. Regardless of these cleavages, most research on ethnic identifications and on their mobilization in politics has been grounded upon substantial definitions of ethnic "groups" and has reified differences between "generalist" and "ethnic" parties. The present comparison between the trajectory of the Movement for Rights and Freedoms (MFR, which represents the interests of the Turks and other Muslims in Bulgaria) and that of the Democratic Alliance of Hungarians in Romania (DAHR, representing the Hungarian population) departs from these approaches in two ways. First, it emphasizes the centrality of the sociology of collective action to understanding the politicization of ethnicity, while insisting on the need to trace the particular historical processes through which ethnicity has been constructed and politicized in every single case. Second, attention is brought to the role the social imaginary plays in shaping the strategies of social and political actors. To put it otherwise, we argue that identities are not exogenous to politicization processes; they are redefined, renegotiated and reappropriated as social actors invest the political field. "Ethnic parties" are in urgent need of deexoticization: Like most parties, they cannot elude the traditional dilemmas of political representation, in particular the need to be perceived as both responsive and accountable.
Après avoir occupé une place modeste au sein des études est-européennes, les travaux consacrés à l'ethnopolitique (ethnopolitics) et aux politiques des minorités en Europe centrale et du sud-est se sont multipliés de manière spectaculaire depuis le début des années 1990. Qu'ils soient nourris par la " transitologie " ou par une abondante littérature consacrée aux " conflits ethniques ", ils tendent à envisager, dans une démarche souvent normative, la diversité ethno-culturelle comme un obstacle au processus de démocratisation. Scrutés dans cette perspective, les partis " ethniques " font l'objet d'interprétations duales : si certaines analyses valorisent dans une optique multiculturaliste leurs rôles en tant que vecteurs de participation et d'intégration des groupes minoritaires dans les sociétés politiques, d'autres mettent en avant les effets délétères des processus de partisanisation de l'ethnicité sur la stabilité des Etats et de la démocratie. Informées par des représentations plutôt essentialistes des " groupes ", ces lectures des identifications ethniques et de leur jeu en politique mobilisent la notion de " parti ethnique " qui se caractériserait par une extrême altérité, comparé aux organisations dites " généralistes ". A rebours de ces approches, la démarche qui guide la comparaison des trajectoires du Mouvement des droits et libertés en Bulgarie (MDL, défendant les intérêts des Turcs et des autres populations de confession musulmane) et de l'Union démocratique des Magyars de Roumanie (UDMR, organisation représentant les intérêts de la population hongroise) vise à revaloriser une sociologie de l'action collective qui n'occulte pas les historicités des sociétés particulières et restitue les imaginaires sociaux comme les stratégies des acteurs. Ce, afin de montrer les conditions dans lesquelles l'ethnicité devient un vecteur de mobilisation sociale, un instrument de production de loyautés et une ressource de légitimation. Les identités ne sont pas exogènes aux processus de politisation ; elles sont redéfinies, renégociées, réappropriées (notamment) à la faveur du passage au politique. Les " partis ethniques " appellent quant à eux un travail de désexotisation, car ils n'échappent pas aux dilemmes de la représentation politique (en particulier, l'enjeu de la réponse/responsabilité, responsiveness) auxquels sont confrontées les autres formations.
Fichier principal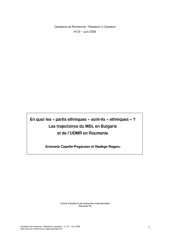 qdr25.pdf (568.15 Ko)
Télécharger le fichier
Origin : Files produced by the author(s)