Les attentats de 1986 en France (Partie 2)
The terrorist bombings that rocked France during 1985-1986 are not well known. The media and the politicians spoke of them at the time, but preferred not to refer to them later so as not to draw attention to their mistakes at the time. The author provides a detailed description of the events and the legal evidence implicating members of secret organisations on the basis of the court proceedings of the prosecution of Ali Fouad Saleh and his group, and numerous interviews with the officials concerned. In a second part, he evokes the different hypotheses concerning the participation of Hezbollah and the Iranians. Moreover, he presents an analysis that questions such views of terrorism as those based on " terror networks " or " indirect governmental strategies ". Rather he sees the causes in a transnational transfer of violence. This leads to a new transnational theory which should abandon the overtly simple concept of international terrorism.
Les attentats qui ont frappé la France en 1985/86 sont mal connus. Les médias, les hommes politiques en ont parlé sur le moment et ont ensuite évité de revenir sur les erreurs qu'ils avaient commises. Grâce au procès criminel du groupe Ali Fouad Saleh et grâce à de nombreux entretiens avec des responsables des services, l'auteur revient sur le déroulement exact des attentats et sur les preuves judiciaires impliquant les membres des organisations clandestines. Dans une deuxième partie il évoque les différente hypothèses possibles concernant la participation du Hezbollah et des Iraniens. Au-delà, il propose un schéma d'analyse qui remet en cause les visions du terrorisme en terme de " réseau de la terreur ", " stratégies indirectes d'Etats " et insiste sur la transnationalié des transferts de violence qui ont caractérisé ces attentats. A partir de ce cas d'espèce, c'est une autre théorie du " terrorisme " dit international qui est proposé.
Fichier principal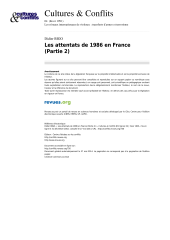 conflits-750-04-les-attentats-de-1986-en-france-partie-2.pdf (175.04 Ko)
Télécharger le fichier
Origin : Explicit agreement for this submission