Gouverner la reconversion industrielle dans le Haut-milanais : interrogations sur les processus de représentation et de défense des intérêts territoriaux
In a community study carried out for two years and half in Legnano (2008-10) we investigate the government of its industrial conversion. The first section justifies a sociology of a small town, and plea for a glance closely linking political and economic dimensions of urban transformation. In the second paragraph we retrace the map of the elite who played a major role within three major urban regeneration programs. We used both positional and reputational methods. The final section focuses on the governance mode, distinguishing between decision- making and the representation of territorial interests. We highlight a certain capacity of the local government to collect and select requests and interests arising from the territory, and to structure the coordination between local authorities and the main economic actors. At the same time, however, the representation of these interests at higher levels is delegated to segmental groups characterized by strong internal solidarity. A certain level of opacity of the representation of territorial interests at the regional level raises some questions relating to democracy and accountability.
Aboutissement d'une enquête de communauté menée sur deux ans et demi dans le Haut-milanais (2008-2010), cette étude s'intéresse à la manière dont a été gouvernée la reconversion industrielle dans cette région, en se concentrant tout particulièrement sur la ville de Legnano. La première partie expose le cadre théorique mobilisé pour cette étude, à savoir la political economy de la petite ville, qui s'intéresse particulièrement à l'articulation entre dimensions politiques et dimensions économiques. La partie suivante présente les données que nous avons collectées pour répondre à la question principale de l'enquête. Nous présentons notamment des données positionnelles et réputationnelles sur les élites qui ont joué un rôle majeur dans la reconversion de trois zones stratégiques. Dans la dernière partie de cette étude, nous nous interrogeons sur les aspects politiques du gouvernement du territoire en distinguant les acteurs décisionnaires au niveau local de ceux qui sont en mesure de les représenter à d'autres niveaux, afin de mobiliser des ressources grâce auxquelles il devient possible de mettre en œuvre ces décisions. Ainsi, les acteurs du gouvernement local sont-ils en mesure de s'ériger en tant qu'interlocuteurs face aux demandes sociales, de recueillir et de filtrer les requêtes et les intérêts qui émanent du territoire, et de structurer les modalités de coordination entre autorités locales et principaux acteurs économiques. Pourtant, la représentation de ces intérêts à des niveaux supérieurs est déléguée à des groupes segmentaires à forte solidarité interne.
Fichier principal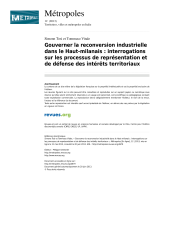 metropoles-4679-12-gouverner-la-reconversion-industrielle-dans-le-haut-milanais-interrogations-sur-les-processus-de-representation-et-de-defense-des-interets-territoriaux.pdf (1.34 Mo)
Télécharger le fichier
Origin : Explicit agreement for this submission