Les partis politiques face aux associations : polarisation, confrontation, collaboration sur les enjeux de sexualité dans la campagne présidentielle de 2012
This paper deals with the way feminist, LGBT and AIDS organizations questioned candidate parties in the 2012 presidential election about various sexuality issues. These processes have taken very different forms, from public letters to meetings, but they all work with the same interactive dynamics: interactions between parties and organizations, but also with the voters. Party positioning in respect to the organizations shows a polarization process and a growing gap between parties whose positions are close to the organizations' ones, willing to discuss and cooperate, and parties opposed to organizations, often refusing dialogue. Moreover, party-organization interactions can go from confrontation to collaboration, which shows some overlaps and connections between political parties and feminist and LGBT movements.
Cet article étudie la façon dont les associations féministes, LGBT et de lutte contre le sida ont interpellé les partis candidats à l'élection présidentielle de 2012 sur différents enjeux liés à la sexualité. Ces processus d'interpellation prennent des formes très diverses allant de l'échange de lettres rendu public à l'organisation de meetings. Ils ont néanmoins en commun de mettre en jeu des dynamiques interactives : interactions entre partis et associations, mais aussi avec l'électorat. Les positionnements des partis face aux associations révèlent un processus de polarisation et un clivage accru entre les partis qui se mobilisent sur ces enjeux, adhèrent aux revendications des associations, en sont des interlocuteurs, et les partis qui rejettent ces thématiques et le dialogue avec les associations. De plus, les interactions entre partis et associations sont prises dans une tension entre confrontation et collaboration qui met au jour certaines continuités et imbrications entre partis politiques et mouvements féministes et LGBT.
Fichier principal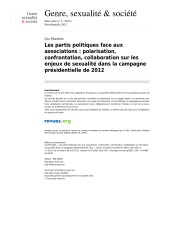 gss-2642-hors-serie-n-2-les-partis-politiques-face-aux-associations-polarisation-confrontation-collaboration-sur-les-enjeux-de-sexualite-dans-la-campagne-presidentielle-de-2012.pdf (177.65 Ko)
Télécharger le fichier
Origin : Explicit agreement for this submission