Selling the Future in DC. Marketing Stability for International Security
What kind of future worlds do experts of international security envision? This paper studies the role of experts in DC's think tanks, a relatively small world socially and culturally highly homogeneous. It underlines the characteristics of this epistemic community that influence the way its analysts make claims about the future for security. The DC's marketplace of the future lacks diversity. The paradigms analysts use when they study international politics are very similar. Moreover, the range of issues they focus on is also relatively narrow. The paper highlights three main features of the relation between those who make claims about the future of security and those to whom these claims are addressed (mainly policymakers). First, it shows that, for epistemic but also for political reasons, the future imagined in think tanks is relatively stable and linear. This future also contributes to the continuity of political decisions. Second, the paper shows that think tanks are also "victims of groupthink", especially when they make claims about the future. Third, it underlines a paradox: scenarios and predictions create surprises. Claims about the future have a strong tunneling effect. They reinforce preexisting beliefs, create focal points, and operate as blinders when, inevitably, the future breaks away from its linear path.
Les experts en matière de sécurité sont régulièrement sollicités pour donner leur avis sur le futur de la politique internationale. A Washington, le petit monde des think tanks est un véritable " marché du futur ". Son homogénéité culturelle et sociale est très forte, la diversité des idées qui s'y expriment très réduite. Dans ce marché des idées, le spectre de futurs possibles est dès lors très étroit. On note trois caractéristiques principales de cette énonciation du futur. Premièrement, pour des raisons épistémiques et politiques, le futur est linéaire, et ainsi conforte la stabilité et la continuité des décisions politiques. Deuxièmement, ces savoirs de l'expertise sont fortement enracinés dans un " groupthink ", une pensée collective entravée par des biais qui s'auto-entretiennent et qui conduisent à lisser fortement prédictions et scénarios. Troisièmement, c'est là un paradoxe, les anticipations de la sécurité internationale contribuent à créer un effet de surprise. Par des effets de tunnel, l'attention des praticiens de la sécurité tout comme celle du public se concentre sur des points focaux, les empêchant de voir les inévitables ruptures avec les trajectoires linéaires émerger et se réaliser.
Fichier principal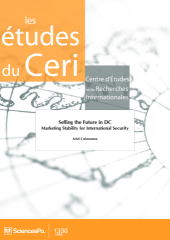 etude184.pdf (1.83 Mo)
Télécharger le fichier
Origin : Explicit agreement for this submission