Les compromis parlementaires, combinaisons de surpolitisation et de sous-politisation : les lois de réforme du Code Pénal et de création du Pacs
Whether parliamentary assemblies are capable of deliberating in such a manner as to produce the Common Good is a matter of ongoing debate. There is great deal of literature underscoring consensual and conflictual aspects of parliamentary deliberations. Based on an analysis of the French National Assembly debates over two very controversial pieces of legislation, the New Penal Code (1992) and the Pacs (Civil Solidarity Pact - 1999), this article points up two concomitant dynamics : viz. the over- and under-politicization of the debates. We show how these two contrasting argumentative registers overlap in the debates and how they affect parliamentary compromises that might have long-term repercussions.
La question de la capacité des assemblées parlementaires à organiser une délibération produisant le Bien commun est un débat récurrent. Beaucoup de travaux opposent chacun à leur façon des moments consensuels à d'autres plus conflictuels. À partir de l'étude des débats à l'Assemblée nationale à propos de deux lois très controversées (le nouveau Code pénal en 1992 et le Pacs en 1999), cet article met en valeur deux dynamiques concomitantes : la surpolitisation et la sous-politisation des débats. Il dégage les composantes respectives de ces registres argumentatifs. Il montre aussi leur entremêlement au cours des débats et leurs effets sur les compromis parlementaires aux effets durables.
Fichier principal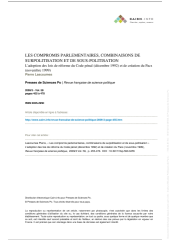 rfsp-593-0455.pdf (156.67 Ko)
Télécharger le fichier
Origin : Explicit agreement for this submission