Régulation et rôle de la connaissance dans le champ éducatif en France: Du monopole à l'externalisation de l'expertise ?
This article examines the type of expertise used by the political and administrative authorities for education in France and how the overture to knowledge produced by researchers and auditors outside the education field interacts with the introduction of new regulation modes. Firstly it presents the main pillars of traditional regulation, as well as the factors explaining their loss of efficacy and the subsequent attempts to elaborate new management tools. In the second part the author will analyze the foundations of the internal monopoly of educational expertise and the echoes heard by the 'entrepreneurs of knowledge' in their efforts to enlarge the circle of knowledge producers and to diversify the types of knowledge. The article concludes on the need of the political and administrative bodies to format the modalities of overture to external expertise and sketches some paths for comparison with other national contexts.
Cet article s'intéresse au type d'expertise utilisé par les responsables politiques et administratifs de l'éducation en France et à la façon dont l'ouverture aux connaissances établies par des chercheurs et des évaluateurs extérieurs au champ éducatif s'articule avec l'introduction de nouveaux modes de régulation. Il présente dans une première partie les principaux piliers de la régulation traditionnelle, ainsi que les facteurs expliquant leur perte d'efficacité et les tentatives subséquentes pour élaborer de nouveaux outils de management. Dans une deuxième partie, il analyse les fondements du monopole interne de l'expertise éducative, et les échos que rencontrent les " entrepreneurs de la connaissance " dans leurs démarches pour élargir le cercle des producteurs de connaissance et diversifier les types de savoir. L'article conclut sur la nécessité de distinguer les modalités d'ouverture à l'expertise externe des politiques et des responsables administratifs et ébauche quelques pistes de comparaison avec d'autres contextes nationaux.
Fichier principal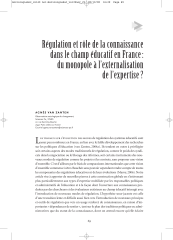 avz-regulation-et-connaissance.pdf (715.92 Ko)
Télécharger le fichier
Origin : Explicit agreement for this submission