Somalie : un nouveau front antiterroriste ?
[Somalia: Towards a New Anti-terrorist Front?] The international community analyzed the crisis in Somalia in light of its own interests rather than the reality of the country. After having failed to work out a true reconciliation government between 2002 and 2004, western countries went about keeping alive a government that had no real legitimacy, but backed by Ethiopia and Kenya. The emergence of the Islamic Courts in June 2006 reshuffled the cards. More than the radicalization of the Islamic Courts, two arguments finally determined Somalia's fate and the rekindling of war there. Ethiopia couldn't stand to see an autonomous power friendly to Eritrea appear on its southern flank. And the United States wanted to signal the absolute predominance of its fight against terrorism over any other consideration. Such a posture provided the opportunity to try out a new security doctrine giving the Pentagon ascendancy over the pursuit of alleged terrorists, co-opting new regional powers on the African continent in the process, given that most of its European allies once again proved particularly limp in the face of yet another militarist drift on the part of Washington. Incapable of occupying the political space, the transitional Somalian government encouraged radicalization. The specter of an Iraq-style conflict in Africa began to loom with Ethiopia's shaky victory in January 2007.
La crise somalienne a été appréciée par la communauté internationale à l'aune de ses intérêts plus que dans sa réalité nationale. Après avoir échoué à concevoir une véritable réconciliation entre 2002 et 2004, les pays occidentaux se sont préoccupés de faire survivre un gouvernement sans véritable légitimité, mais soutenu par l'Ethiopie et le Kenya. L'émergence des Tribunaux islamiques en juin 2006 a reconfiguré la donne. Plus que leur radicalisation, deux arguments ont décidé du retour de la guerre : l'Ethiopie ne pouvait accepter de voir surgir sur son flanc sud un pouvoir autonome et ami de l'Erythrée, les Etats-Unis voulaient affirmer l'absolue primauté de la lutte antiterroriste sur toute autre considération. Une telle posture permettait de tester une nouvelle doctrine de sécurité donnant au Pentagone un ascendant sur la poursuite des supposés terroristes et permettant de coopter de nouvelles puissances régionales sur le continent africain, les alliés européens se montrant une fois de plus singulièrement atones face à cette nouvelle dérive militariste de Washington. Incapable d'occuper l'espace politique, le gouvernement transitoire somalien a poussé à la radicalisation. La perspective d'un nouvel Irak à l'africaine se dessinait dès la précaire victoire de l'Ethiopie en janvier 2007.
Fichier principal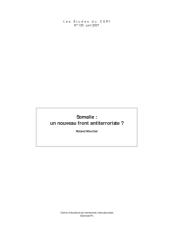 etude135.pdf (95.38 Ko)
Télécharger le fichier
Origin : Explicit agreement for this submission