Privatisations et formation des Etats est-européens
[Privatization and State-Formation in Eastern Europe] An analysis of privatization policies in Central and Eastern Europe highlights the passage from predatory capitalism in the early days of transition from communism to a more legally regulated form of capitalism that has served as an indicator of the increasing rationalization of the economic, political and administrative playing field. In this regard, the European Union has performed an important role by strengthening regulatory agencies. This transition did not arise out of any internal necessity that might have led to an irreversible evolution from one form of capitalism to another, nor has it produced identical forms adopted there which would justify speaking of an "East European" type of market capitalism.
L'analyse des politiques de privatisation en Europe centrale et orientale met en valeur le passage du processus de transition du capitalisme prédateur des premiers moments de la transition hors du communisme, au capitalisme davantage régulé sur une base légale. Ce dernier a été l'indicateur de la rationalisation croissante des aires de jeu, économiques, politiques et administratives. L'Union européenne a joué, à cet égard, un rôle important par la consolidation des agences de régulation. Cette transition n'a pas répondu à une nécessité interne, qui aurait conduit à l'évolution irréversible d'une forme de capitalisme à une autre, elle n'a pas davantage produit une identité des formes adoptées qui autoriserait à parler d'un type de capitalisme de marché " est-européen ".
Fichier principal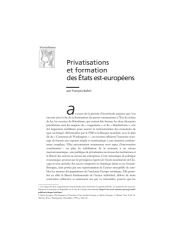 ci32p137-152.pdf (253.25 Ko)
Télécharger le fichier
Origin : Explicit agreement for this submission