De la routine à la délibération : Les arbitrages des consommateurs en situation d'achat
For the past few years an economic sociology has sought to explain the role of the various devices and operations comprising the market relationship. In this paper the author considers the specific case of consumers' actions in the purchasing situation. Using an original method for analysing the shopping process, she collected a corpus of situations involving choice. She represents the heterogeneity of these types of choice in the form of three ideal-types: routine, selection, and deliberation. These operations underscore the highly cognitive dimension of consumers' involvement in market relationships but also show consumers' ability to come to terms with moral dimensions.
Depuis quelques années une sociologie de l'échange rend compte du rôle des différents dispositifs et opérations qui construisent la relation d'échange. Dans cette contribution, nous abordons le cas plus spécifique des actions des consommateurs telles qu'elles peuvent être saisies en situation d'achat. A partir d'une méthode originale de suivi de parcours de courses, nous avons recueilli un corpus de situations d'arbitrage. Nous proposons de restituer l'hétérogénéité de ces arbitrages sous trois figures idéales-typiques : la routine, la sélection et la délibération. Ces opérations des consommateurs soulignent la dimension fortement cognitive de leur engagement dans l'échange, mais montrent également leur habilité à composer avec des dimensions morales.
Fichier principal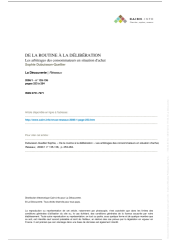 res-135-0253.pdf (217.7 Ko)
Télécharger le fichier
Origin : Explicit agreement for this submission