La résilience du nationalisme face aux régionalismes et à la mondialisation
[The resilience of nationalism in the face of globalisation and regionalisms] At a time when the nation-state is affected by globalisation, with its surge of transnational flows and by growing regionalism, nationalism is showing strong resilience. The propagation of Western lifestyles has not really challenged national identities because of the indigenisation of these foreign patterns by local societies. Similarly, the growth of diasporas has not created deterritorialised communities, mainly because of the attachment of migrants to their mother countries - which may even translate into "long-distance nationalism". So far as regionalisation is concerned, neither "pan-ism" movements nor the regional zones of cooperation have eroded national identities. The making of the European Union itself - though it represents the most elaborate transfer of sovereignty to the supranational level - has neither given rise to a new European identity nor durably weakened national identities.
Alors que l'Etat-nation subit les assauts de la globalisation, de son régionalisme croissant et des flux transnationaux, le nationalisme fait preuve d'une puissante capacité de résistance. Du fait de l'indigénisation des modèles étrangers par les sociétés locales, la diffusion des modes de vie occidentaux ne remet pas vraiment en question les identités nationales. Parallèlement, le développement des diasporas n'entraîne pas la création de communautés déterritorialisées, et ce surtout parce que les migrants restent fortement attachés à leur mère-patrie, attachement qui se mue même parfois en " nationalisme à distance ". En ce qui concerne les régionalismes, ni les différents " pan-ismes " ni les zones régionales de coopération n'ont érodé jusqu'ici les identités nationales. La construction de l'Union européenne elle-même, bien qu'elle soit le cas le plus abouti de transfert de souveraineté au niveau supranational, n'est pas parvenue à donner naissance à une nouvelle identité européenne qui aurait pu affaiblir les identités nationales.
Fichier principal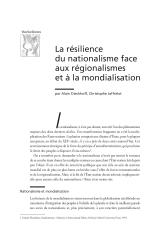 ci23p125-139.pdf (109.81 Ko)
Télécharger le fichier
Origin : Explicit agreement for this submission