Nationalisme et multiculturalisme
[Nationalism and multiculturalism] In order to assess the different argumentative strategies designed to reconcile nationalism and multiculturalism, this article considers in turn the two following possibilities: to take as a starting-point the civic-vs.-ethnic-nationalism division and settle for the civic/political variety supposedly embodied by the U.S. and French models of citizenship and their - otherwise sharply distinct - ways of managing cultural heterogeneity; or to disaggregate the notion of 'multiculturalism' by demonstrating that in fact, the political claims generally advanced under this rubric either aim at promoting the integration of ethnocultural minorities into mainstream national institutions, or can best be understood as competing, nationalist demands. It ends up concluding that for as long as national identity alone may provide the sense of common membership on which the antidiscrimination project and, more generally, the promotion of social justice ultimately rest, defenders of 'multiculturalism' probably ought to refrain from denouncing the uniformity-enhancing, oppressive nature of nationalism - if only on strategic grounds.
Pour évaluer les arguments stratégiquement avancés par certains acteurs en vue de concilier nationalisme et multiculturalisme, cet article examine successivement les deux possibilités suivantes : prendre pour point de départ l'opposition entre nationalisme civique et nationalisme ethnique et trancher en faveur de la variété civique/politique, que sont censés incarner les modèles américain et français de citoyenneté avec leurs méthodes de gestion de l'hétérogénéité culturelle pourtant très différentes ; ou procéder au démontage de la notion de " multiculturalisme " en montrant qu'en réalité les revendications politiques généralement avancées sous cette appellation soit visent à promouvoir l'intégration des minorités ethno-culturelles au sein des institutions nationales du pays englobant, soit s'interprètent comme des revendications concurrentes, nationalistes. Il en conclut que, aussi longtemps que l'identité nationale est la seule à pouvoir fournir un sentiment d'appartenance commune sur laquelle repose en définitive le projet antidiscriminatoire comme, plus généralement, la promotion de la justice sociale, le partisans du "multiculturalisme" feraient sans doute mieux de s'abstenir de dénoncer le caractère uniformisateur et oppresseur du nationalisme, ne serait-ce que pour des raisons stratégiques.
Fichier principal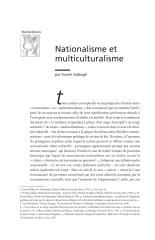 ci23p113-124.pdf (104.14 Ko)
Télécharger le fichier
Origin : Explicit agreement for this submission