Les guerres civiles à l'ère de la globalisation
[Civil wars in the age of globalizationNew realities, new paradigms] There are three major theoretical trends offering an explanation for the persistence of wars following the end of the Cold War and the age of globalization. The most influential of them is probably the one that views the difference between wars today and those of the previous period as qualitative, its most credible representative being Mary Kaldor. According to these authors, today's wars are identity-based, their violence is turned mainly against population groups, and their economy is based on pillage, whereas those of yesterday were mainly ideological, seeking to win people to their cause and mobilizing resources to achieve their ends. These theories do not hold up to careful scrutiny. Yet the stakes are sizeable of one considers that, along with the other two theories and despite enormous differences, this trend constitutes a dominant paradigm (which is not, however, the single perspective) that exerts a decisive influence on the policies of the "international community".
Il existe trois grands courants de théorisation pour analyser les guerres de l'après-guerre froide et de l'ère de la mondialisation. Le plus influent est sans doute celui qui établit une différence qualitative entre les guerres d'aujourd'hui et celles de la période antérieure, et sa représentante la plus sérieuse est Mary Kaldor : les guerres d'aujourd'hui seraient identitaires, exerceraient leur violence surtout contre les populations et auraient une économie fondée sur le pillage, alors que celles d'hier auraient été idéologiques, auraient cherché à gagner les populations à leur cause et auraient fonctionné sur la base d'une mobilisation des ressources. Examinées de près, ces théorisations ne tiennent pas. Pourtant l'enjeu est considérable si l'on songe que ce courant constitue avec les deux autres (notamment avec celui de Paul Collier sur l'économie des guerres), et en dépit de larges différences, un paradigme dominant (sans être pour autant une pensée unique) qui exerce une influence déterminante sur la politique de la "communauté internationale".
Fichier principal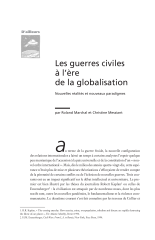 ci18p91-112.pdf (119.92 Ko)
Télécharger le fichier
Origin : Explicit agreement for this submission